Tasteful and Enjoying Food from the Experienced Caterers in Delhi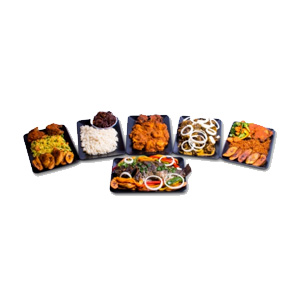 Life is enriching and it is also loveable, but the taste of good food and a morsel of it when touches the palate and senses the taste buds, life becomes even more pleasureful. ZoopGo is the principal resource of the best and one of the elitist caterers in Delhi. Out here we have a selective food caterers who can make your occasions and celebrations not only stand out the best but heavenly too.  We have also resourced a few of the exclusive vegetarian caterers in Delhi that inspire your senses and make you believe that few things are always tasteful and hearty by themselves. 
Gain a Completely Relishing Food Experience
 Catering is not about the food, it is about the mannerism and presentation of the food and the excitement that is always bountiful to the human senses. At ZoopGo we have the best caterers in Delhi who can always make a whopping difference to your celebrations and above all they are affordable too. We have classified the catering services offered by the local service providers in Delhi and NCR on several levels. Ultimately when the customers select the catering service provider, they are not only going to get great deals but also an exceptionally befitting motivation that transcends beyond the usual. 
Superior Quality and a Great Catering Service
Have you been searching for great and immensely valuable catering service in your area? Get straight to ZoopGo. We will source you the catering leads that benefit you and above all prevents you from the last minute entanglements. ZoopGo is where catering services and the caterers make a phenomenal presence. Families connect with us and professionals like to get listed on our outgrown marketplace for their own practical reasons. 
Customers can look out for the wedding and pre-wedding caterers, besides the catering services for special birthday parties, glamorous cocktail events, home parties, corporate events, and religious events. Get the premium catering service for Mehndi Function, Haldi Function and Ring Ceremony as well. With ZoopGo, customers will always become benefitted and excited. With us, your event is going to be a great pomp show and there is always an overwhelming charm.
Not the Regular Catering Service Providers
ZoopGo has professional caterers and there immense professionalism is always welcomed by the customers. The caterers are ready to offer services that qualifies them in a separate league. They enjoy serving the tasteful interests of the people and more importantly, the food variety served for the occasion is simply the best.  Besides, the rate at which the catering service providers serves the customers, it is just awesome. In the end, the customers gain value for the money.
Get Going at ZoopGo
Want to select from the league of exclusive vegetarian caterers in Delhi? Shop and compare the quotes of the best caterers right now. We always try to be offer the customers a pleasurable catering experience, which seems to appear simply bountiful and awesomely unique plus there is always a variety upheld in that experience. 
Indeed, food is a celebration in itself. At ZoopGo, we believe that the way to the heart goes through great good, and so you must serve soulful food to your guests. Hence, we strive to connect you with the best caterers in Delhi to fulfill your gastronomical requirements and turn your dream event into a delicious reality. From the spectrum of festive events to social gatherings and corporate affairs, you can count on us to get the best catering professionals as per your catering needs. Our catering partners are pre-screened. They will leave no stone unturned to make your event an unforgettable affair with all commitments being met in the most perfect way.
Connect with the best Halwai in Delhi through us & add a traditional touch to the festivity
Whether brownie or blondie, nothing can replace Delhiwalas' love for Kesar jalebi and Rabdi. Indeed, apart from the spice, Delhi people have long been known for their love affair with sugar. That's where Halwai in Delhi (confectioners), also known as sweet-makers, come into play. You can hire well-regarded Halwais in Delhi through us to add the touch of tradition to your festivity with authentic Indian cuisines. 
Best Industrial catering services in Delhi for your corporate catering requirements 
Whether you want to hire culinary experts for canteen requirements or corporate events, we have got your back. Certainly, you can book professional industrial catering services in Delhi through us by filling out your requirements and contact information on the online form mentioned on our portal. Our partners are front players in the corporate catering industry. Hence, you can rest assured about getting the best quality, fresh & hygienic food services at the most reasonable rate. Plus, you can hire top caterers from Old Delhi through our portals. 
Book top Brahmin food caterers in Delhi via us to add a Satvik touch to your festivity 
If a Satvik and elegant occasion without the incorporation of garlic and onion is what your heart desires, consider hiring best-in-class & experienced Brahmin food caterers in Delhi through us. With their high creative manifestation, they will bring forth inspiration and ideas into reality and make your event super delectable with a variety of dishes & natural drinks. 
Top 10 trending veg party dishes recommended by top veg caterers in Delhi
Tandoori Aloo Shehzadi
Palak Patta Chaat
Paneer Mewa Chilla
Dal Bukhara
Amritsari Pindi Cholley
Tandoori Pineapple Raita
Subz Milani
Shaam Savera
Surkh Paneer
Gulab Jamun Tiramisu
Top 10 lip-smacking party cuisines recommended by top non-veg caterers in Delhi
Butter Chicken
Kadai Chicken
Malvani Chicken Curry
Chicken Chettinad
Amritsari Chicken Masala
Spicy Chicken Masala
Nihari Mutton
Laal Maas
Pasanda 
Champaran Mutton Curry
Enjoy great deals on hiring caterers in Delhi through us
Professional catering is a costly ritual. But, you can breathe a sigh of relief as you can book top catering services in Delhi through us without breaking the bank. Several factors determine the cost, such as type of event, menu, type of catering (Buffet, plated, sit-down, food station displays, etc.), food portion, etc. Vegetarian catering range from INR 350 to INR 1500 or more per pax. Whereas catering service charges per plate for non-vegetarian catering range from INR 550 to INR 2200 or more.
How can you opt for professional caterers near you in Delhi through ZoopGo?
Here at ZoopGo, you can customize the list according to the requirements. According to your nearby location and budget, you can search for professional catering services according to the multiple events or your choices. We're not limited to anyone or two catering services. It means you can get the best Small Party Caterers in Delhi according to the requirements. Here is how you can opt for professional catering services.
Visit ZoopGo.com and explore our professional catering services according to your nearby location.
After that, you need to connect with them and clear all your doubts.
Then it will be beneficial for you to compare their experiences and their verified chefs, waiters, supervisors, or more.
After that, you can ask about the best competitive charges and packages according to your requirements.
Ask about the complete veg and non-veg platter and buffet.
How they'll decorate the entire food court according to the theme is necessary.
So, finalize the date and get the best Birthday Party Caterers in Delhi for a better occasion.
Types of catering services in Delhi  you can avail through us
Here is the list of catering services according to the required facilities.
Birthday party caterers
Special Veg and Non-Veg Caterers
Small Party catering services
Roof Part or any food event catering services
Lunch Box caterers
Office lunch or any social service caterings services
Traditional Caterers and more
These are the major types of professional caterers where you can easily hire professional catering services near you. You can expect the best catering services by hiring Veg and Non-Veg Caterers in Delhi through us.
Make your event a delicious tale to remember with us
Do you require the best catering service in Delhi for your kid's birthday party or any festive occasion?   Are you looking for the best corporate event caterers in Delhi? If you are planning to serve your guests with great food at your wedding in Delhi, then you have visited the correct place. ZoopGo has you covered with everything.
We at ZoopGo are well connected to various catering services in Delhi providing the best menus along with recipes. These experienced catering services in Delhi are at excellent heights and the taste of their foods is nothing less than the cuisines of 5 stars. If do not believe it then you need to eat it on your own directly from these kitchens of the best birthday catering services in Delhi. So call us and get in contact with the top party catering in Delhi.
What is the hiring guide for caterers in Delhi from ZoopGo?
Whatever be the occasion, food is considered as the main focus of an event. There are many things that make catering successful- great food along with hygienic cooking as well as gracious service. So to search a caterer who will assure all of this is a great task.
To offer you a convenient way of booking a catering package, we at ZoopGo will bring in front of you the great facility of caterer service. Now you can make the celebration really happening by hiring excellent caterers in Delhi from the comfort of your house with the aid of ZoopGo. The catering services that are offered by us include a birthday party, festive occasion, wedding, anniversary, corporate party, baby shower, housewarming, bachelor party, and others.
Will the right expectation be set by us?
ZoopGo will promise to get you in touch with some of the best caterers in Delhi who will offer you high-class service. You can discuss the cost and time of work with the professionals. Before you select what is best for your party, you can review as well as compare the prices. Weddings are considered as a great deal in Delhi. They are grand events that are celebrated by the families along with friends of the brides and grooms.
They try to keep this function traditional and thus the wedding caterers whom you will hire from us in Delhi will serve both traditional vegetarians as well as non-vegetarian cuisines. The street food of Delhi tastes amazing and if you are having any celebration in Delhi then these street foods are a must-have. Thus the caterer whom you will hire from ZoopGo will have menus specially designed for exotic dishes.
Any occasion in Delhi is also celebrated with a lot of fun. Thus the caterers in Delhi serve various exquisite as well as exotic cuisines and even it is a farewell or bachelor party then the emphasis is given on drinks along with desserts. Continental cuisines are couples with traditional ones and are thus curate in such a way that the theme is kept alive.
Be Aware of what you are searching for in catering services in Delhi
Caterers are a crucial part of any party. The service related to food as well as beverages should not be compromised. Caterers in Delhi will provide you with cutlery, crockery, drinks as well as their individual team that will consist of servers and helpers. They will prepare food wherever you will wish them to.
Some caterers also offer services that include live cooking stations. After the food service is over, they clean the cooking and serving place. At ZoopGo, you can select the package on the basis of your budget. The prices are usually listed on the basis of the per plate and vary from basic to luxury ones. After you decide the per plate price, you can select the dishes as well as cuisines from the offered menu. Price may go up with the inclusion of each and every additional dish and service.
Some vital details that are necessary
Purpose of the catering service
Food preferences
Expected guests
Estimated budget/plate
Event date
Event location
Is Catering Service Essential?
No one can celebrate any special day without some great food. You need to create a good impression on your guests by treating them with appetizers, main courses, and deserts of excellent quality. It is difficult to find these unique catering services anywhere else that we help you to find at ZoopGo. We will offer you a list of birthday parties, weddings as well as corporate party catering services in Delhi who will help you to select a variety of mouth-watering recipes that definitely will fulfill everyone's tastes.
We will assure you that no single event is big or small enough when we will choose the ideal caterer for you. Parties are a brilliant way to celebrate healthy socialization. You can simply relax and enjoy as you do not have to spend time planning and worrying about completing various arrangements. At ZoopGo, we will deliver a completely customized caterer and you do not have to think about compromising on any aspect related to personification. So invite the professionals from ZoopGo to carry out each and every requirement of your event without any hassle and also at wallet-friendly pricing. ZoopGo will aid you in throwing a party that will be remembered by all your guests.
Why should you choose ZoopGo for catering services in Delhi NCR?
Verified experts: At ZoopGo, we onboard professionals after proper screening in order to provide you with the best catering services in Delhi.


Flexibility: We give the most priority to our customers and hence the catering services that we will hire for you will be no exception as it will focus on customer eccentricity.


Estimated budget: We will offer you, caterers, in Delhi that are designed in ways that will suit various buckets that are quite affordable.


One-stop destination: ZoopGo will take proper care of each and every essential of a party and will offer you everything that you will need including caterers, cutlery, crockery as well as helpers.


So, if you are planning to throw a farewell party for your colleague or a bachelor party for your best friend or even looking for great caterers for your wedding day, then you can visit ZoopGo. We will help you to get in contact with the best caterers in Delhi who will make your party a great one to relish forever.
Standard Price of Professional Caterers in Delhi 
| | |
| --- | --- |
| Wedding  | INR 50,000 - INR 1,25,000 |
| Engagement | INR 30,000 - INR 1,10,000 |
| Reception  | INR 50,000 - INR 1,25,000 |
| Corporate Event | INR 50,000 - INR 1,00,000 |
| Birthday Party | INR 30,000 - INR 80,000 |
| Family Get Together | INR 15,000 - INR  35,000 |
| Other Events | INR 50,000 - INR 1,00,000 |
Veg Catering Services in Delhi
It is rightly said that a delicious cooked food whether vegetarian or non-vegetarian goes straight to the heart. However, it is easier said than done because everyone is able to cook finger-licking cuisines, especially the vegetarian ones. One has to possess the right skills and talent to make sumptuous food and create a long-lasting impression. If you are planning to organize an event or a party, then you can plan to hire the professional providers of vegetarian catering services in Delhi from Zoopgo and have a stress-free experience. The caterers are experienced and spread happiness by preparing mouth-watering food items and making your event a big hit.
Why Hire Professional Delhi Vegetarian Caterers in Delhi?
This is the question that will definitely crop up in your mind. If you have good cooking skills, then you can follow the Do-it-Yourself (DIY) approach and prepare the food for the guests. However, three main questions that occur here are:
Do you have the time to prepare the food?
Are you able to make vegetarian cuisines for a large number of guests?
Do you have the knowledge of preparing several kinds of vegetarian dishes?
If the answer is NO to all these questions, then hiring the top providers of veg catering services in Delhi will prevent you from plenty of hassles and ensure you tantalize the taste buds of the guests by offering them the delicious vegetarian food, which they may not have tasted before. 
Non-Veg Catering Services in Delhi
Are you a meat lover? If yes, then any event or party in Delhi is termed incomplete without the delectable non-veg dishes that will make you crave for more. There is no doubt that the food is one of the most integral parts of any event and the guests will love the sumptuous dishes prepared by the providers of non-veg catering services in Delhi according to your requirements and budget. When you are planning an event, then you require the professional services of the caterers that will prepare different non-veg food with perfection.
Why Hire Non-Veg Caterers in Zoopgo for Your Next Occasion?
The Delhi non-veg food caterers offer a wide assortment of tasty menu that goes on to provide an excellent dining experience to the guests. It cannot be debated that organizing any event or party is physically draining and when you have to make hundreds of calls to the careers just to hire the reliable ones, then it will certainly wear you out. This is precisely why hiring the best providers of non-veg catering services in Delhi from Zoopgo will be an excellent option as just like the 'BEST COMPANION', the caterers will help you to prepare a good budget that will certainly provide you with a hassle-free experience and most importantly let you enjoy the party without any stress.   
Zoopgo leaves no stone unturned to get you connected with both the veg caterers and non-veg caterers instantly that will make the delicious food items and offer you a fine dining experience.
Happy to assist! Reach out to us at 1800-12312-9655 (Toll-free) or post your requirements by completing the quote request form available on our portal to book top caterers in Delhi. Also, you can drop us a line at [email protected].