Single Platform Catering Solutions for all Celebrations in Green Park Delhi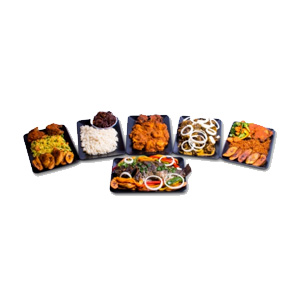 Caterers churn out the real essence of a party. Hence, when the need arises to cater to multiple palates for a vibrant occasion of your imagination, people start looking for the most efficient caterers in Delhi and other cities across the nation. Other than birthdays and other house parties, these proficient caterers proffer their peerless catering expertise even to those who are really in quest of indulging in fun team lunches. They love to cater to small gatherings as well as bigger ones which would include weddings, corporate party sangeets, engagement events, anniversaries and outdoor catering. By hiring Caterers in Green Park around you in Delhi may save both your time and allow you to pour much attention on other parts of organizing the party that needs tending to.
They propitiate their clientele with a choice in an array of cuisines to choose from. North Indian, South Indian, Mughalai, Chinese, Thai, and Continental are some of the most demanding opted for cuisines. By scrolling to the top you will find a huge list of caterers in favor of your searches relevant to Green Park Caterers near me.
Pick a top and affordable caterer in Green Park from ZoopGo.Com immediately
At ZoopGo, you can search for Green Park Caterers on the basis of your location, popularity, ratings & reviews on ZoopGo. To opt for the best offers from the business listed on our portal, just fill up your requirements, such as type of occasion, date, venue, number of estimated invitees, food type, etc. and click on the submit option. Eventually, our efficient team will help you contact the best Wedding Caterers or for an occasional need in your budget.
Top Caterers available on ZooGo portal
Being enough efficient by enrolling a large group of accomplished, reliable and prompt Caterers in our catering services in Delhi list, we cater to let you contact the most desiring caterer for any of the services, such as Wedding Caterers, Birthday party Caterer, Kitty Party Caterers, Engagement event caterers, House Warming caterers, Anniversary party Caterers, Corporate party caterers and all types of other Outdoor Catering services, etc.
Varieties of food that our popular and competent Caterers are expertise in supplying
Our popularly known and skilled Anniversary party Caterers, as well as others, are thoroughly capable in providing all types of food items depending on the choice of the customer. They serve all types of following food items in a splendid way –
Vegetarian food items,
Non-Vegetarian foods,
Jain specialized foods,
Rich North Indian foods,
Luscious South Indian foods,
Chinese food items,
Mughalai Special
Continental foods and so on.
Thus, it's all about your choice to hire the most suitable and perfect Engagement event caterers, House warming caterers, or some another for your specialized even from us and discuss everything of your preference to the selected one. They are solely committed to providing the exact food item of great taste as per the need of the client.
Green Park Caterers in Delhi from ZoopGo for reliable and affordable catering services
ZoopGo is popularly believed to be a leading business listing online portal. It lets you connect with a large array of reliable, affordable, and certified caterers providing desiring catering services. To appoint the best caterers near me, just fill the online inquiry form above with your specifications. And see how your catering exigencies get fulfilled the way exactly you wish and in your budget.
Specializations that you get with a Corporate Party Caterers from ZoopGo
You can find your Caterer ready to serve 24 X 7 with a fair dealing
All our Caterers in Green Park are genuinely certified and well-experienced in all types of today's vibrant catering services
If the estimated number of guests increases, they can manage without any complicacy
They are great at providing incredible services instead of a sudden change in the party venue
They can cook food at your venue itself, or if you need ready food items, will be brought and arranged at the destination without any issue.
What is your proce and how many guests you can serve?
Before finalizing any catering service provider, ask them what their price per plate is and what is their maximum capacity when it comes to serving the number of guests. We are mentioning the types of events and their approximate cost when you fetch catering services for these occasions
| | |
| --- | --- |
| Corporate Event Caterers | 22000-90000 INR Approximately |
| Engagement Event Caterers | 23000-115000 INR Approximately |
| Wedding Caterers | 30000-170000 INR Approximately |
| House Warming Caterers | 20000-90000 INR Approximately |
| Birthday Party Caterers | 14000-38000 INR Approximately |