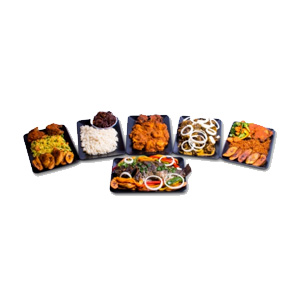 Hire the prominent caterers in Anand Vihar through ZoopGo for a Memorable Affair!
Whether you are holding a festive celebration or a corporate event, the food you will serve will be a difference-maker in whether guests have a good or bad time. So if you want to impress your guests and make your event a flavourful affair, hiring well-regarded caterers in Anand Vihar through ZoopGo is paramount. ZoopGo, with over a decade of experience, 45000+ satisfied customers, 1500+ service providers, is India's leading online portal. We work as a bridge between customers and service providers. We ensure to meet our valued customers' expectations by connecting them with prominent caterers.
10 key considerations when hiring caterers in Anand Vihar -
(1)Your personal needs and event size


(2)Location or venue of the event


(3)Caterer's customer reviews


(4)Caterer's costs


(5)Caterer's certifications


(6)Caterer's flexibility


(7)Caterer's food preparation methods


(8)Number of catering staff you need for the party


(9)Sample food testing


(10)Written agreement
5 perks of hiring caterers in Anand Vihar through us -
To remain stress-free - Hosting an event is a complex task as you are required to plan and consider a dozen things, like theme, guest list, menu,  return gifts, entertainment, décor, etc. But you have to remain calm and poised. Professional caterers enlisted with us will take the catering burden off your shoulder and ensure your event runs smoothly. Moreover, you can connect with veg and non-veg caterers in Anand Vihar through our platform.
To make your event irresistible - The flavour and taste of your event's food will linger in the memories of your guests. They will muse over this party even many months later. Caterers enlisted with us are certified, assured and experienced. They will curate the menu to satisfy the most discerning palate. You can hire big and small house party caterers in Anand Vihar with us as well.
To get free quotes - Catering is an expensive event, and you can't settle with the first caterer you meet or the first quote you receive. Therefore ZoopGo. With us, you can receive free quotes from four caterers. You can compare them and make the final call. To get free quotes, you need to list your catering requirements and details on the online form mentioned on our website.
To get actionable insights - People ponder hard over making the final call as caterers are the ones who are the soul bringer to a celebration. Therefore, our specifically designed Dashboard feature. The feature empowers you to read reviews about a service provider and weigh the pros and cons about him, and speed up the decision-making process.
To get 24/7 customer support - We understand the worth of around the clock support in this always-on world. Our dedicated team are available 24/7 to solve your queries and ensure you get the best of the best services.
You can reach out to us through our toll-free number - 1800-12312-9655 for any other query or concern.
FAQs
How to hire the best wedding caterers in Anand Vihar?
Legit and well-regarded wedding caterers in Anand Vihar can be found on authentic internet portals like ZoopGo. Moreover, you can reach out to your offline network, like friends and family members for recommendations.
How far in advance should I hire wedding caterers in Anand Vihar?
You should hire professional wedding caterers as soon as the venue gets fixed or at least 12 months before your wedding date to avoid the last-minute hassle.
Do veg caterers in Anand Vihar prepare vegan food items?
Not all veg caterers prepare vegan food items. However, some renowned caterers registered on ZoopGo can dish out delicious vegan options for your event. 
How much do birthday party caterers in Anand Vihar charge per plate?
The per plate cost of a birthday's buffet-style meal could range from INR 350-1500 and more, depending on the choice of cuisine, the number of dishes on a plate, etc.
Do caterers in Anand Vihar ask for a deposit amount?
Yes, you have to pay a deposit amount to book a catering service. It can range anywhere from 25-50% of the total cost of the event. However, you have to ask your caterer about their deposit amount policy beforehand.
What services do caterers in Anand Vihar provide?
Caterers in Anand Vihar provide both full catering service as well as partial catering service. In full catering service, they are responsible for menu design, cuisine creation, preparation, and presentation, plate and dinnerware rentals, post-event clean-up, etc.