Top Caterers in Shalimar Bagh for Wedding and Other Parties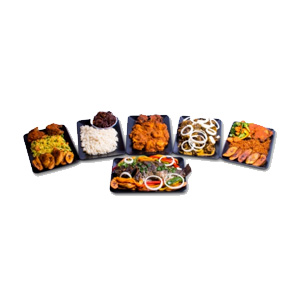 What is the most important investment made during any party or an event? Given up? Well, it is the catering. A hygienic and lip-smacking cuisine really sets the good mood of the guests and you get plenty of accolades. Shalimar Bagh in Delhi is extremely popular for its delectable food items that are simply loved and appreciated by the guests and loved ones. If you are planning to hire the best caterers in Shalimar Bagh for the weddings, birthdays, small house parties, outdoor events, etc, then ensure that you shortlist and book the professional and reputed ones.
However, when there are plenty of catering service providers in Shalimar Bagh to choose from, then it is no wonder that it becomes quite a challenging task to select the reliable service provider and make the event memorable. There is no need to fret as Zoopgo has a comprehensive list of the verified Shalimar Bagh caterers who are renowned for preparing various dishes like North Indian, South Indian, Veg, Non-Veg, Chinese, Mughlai, Continental and many more. You just have to fill up a simple form on the portal and get surprised by the plethora of options, select the professional caterer and tantalize the taste buds of the guests that they KEEP WANTING FOR MORE. 
Prominent Things to Consider When Hiring Caterers in Shalimar Bagh
If your event or party date is fixed, now you may have decided to book the services of the birthday or wedding caterers in Shalimar Bagh. Hiring the top service providers and searching for them consumes a lot of time, however not any more with Zoopgo. Here are some of the prominent points that you must take into the consideration for hiring the professional caterers easily:
Budget: The very first thing that you must take into consideration here is the budget. It is to be noted that the charges of the caterers in Gurgaon may vary from one service provider to another. Whatever your budget is, it is imperative that the catering service provider you have hired must provide you with quality cuisine according to your budget and requirements.
Dishes: There are plenty of wedding and small house party caterers in Shalimar Bagh who are popular for making different kinds of cuisines. If you have a final list in your hand, with regard to the total number of guests that will be attending the party, then you will have a general idea about the kind of dishes to get prepared through the caterers.
Veg and Non-Veg Cuisines: It is one of the most important points that you must take into consideration. Some of the Shalimar Bagh caterers are only good at preparing vegetarian dishes and some of them are best at non-veg dishes. If you are searching for the veg caterers in Shalimar Bagh, then do not forget to check out their food quality and budget.
Hence, the delicious food is something that will always remain in the memories of the guests. Ensure that you get to hire the experienced caterers in Shalimar Bagh who are professionals in making various kinds of finger-licking dishes and make your event unforgettable.