Top Catering Services in Gurgaon From Best Party Caterers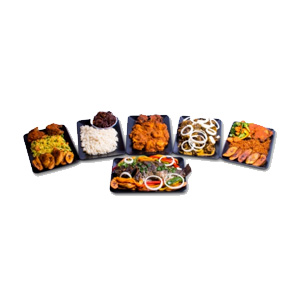 It is said that the way to a man's heart passes through the stomach but we think that why should men have all the fun? Not only men but every person's way to his heart passes through the tunnel of tummy! Food is one of the keynote highlights of any occasion. For instance, if you attend any function and if the food served there was not good at all. Don't you think your mood gets spoiled the next moment? Good food gives contentment to your stomach but, delicious food contains your soul!
It is always advisable that along with other elements, food should not be looked out. Many times people give importance to other detailing of the function and leave the catering to an unaware person. While this will not only spoil their function's charm but will always not leave a lasting impression on their guests too.
Assigning the work according to the person who has expertise will add on to uplift your function at a better level. Try to hire top quality caterers to get high-quality meals to be served at your function. This will make your food to be in the limelight and will also leave a lasting impression in the mind of your guests for the day!
Hiring professional caterers will provide you not only one but numerous benefits. The crucial of many are enlisted below: (Keep scrolling to learn more)
1. Hasslefree Management
On the day of the occasion, you have hundreds of work coming behind you. One gets over the other is in the line to get it done. It happens to be hard to balance all single-handedly. Hiring caterers will not only subtract a huge count from your work list but will help you get it done in an organized manner. The caterers are intermediate level players in this field to get your work done on time. You don't need to worry at all!
2. Lit Your Plate
Caterers allow you to select from varied range to choose from. You can choose the food according to the trend or it can be your choice too. They avail the maximum at an affordable rate. They also help you to choose so that you don't get confused with the food choice. Assigning them work will help you get your plate filled up with yummy delicacies to fill the tummies of your attendees.
3. Manage Your Single Minute
It is not possible to waste a single second on the day of the event. There are piles of work to be doneside by side. Hiring caterers for all your events save a lot of time and support you to get your things done on a timely basis.
4. Impressions That Last Forever
Food is the most looked out thing t an event. Though it is a kid or a grandpa of 50 everybody wants to know what's on the menu. Hiring good quality caterers helps you to get satisfying support in your work. But, this offers you to leave a lasting impression on everyone. Delicious food is loved by all. So, why not serve them the best on your best day. They will cherish your functions for years to come.
These all perks of hiring caterers sounds really soothing to our heart and gives a consoling feeling to our minds. But as many benefits it beholds, they aren't easy to have them all in one. And, hunt for the one who is just ideal for that work.
But what's your reason for worry?
Whenour crew from ZOOPGO is here to serve you the best catering suggestion's platter all around Gurgaon.
How ZOOPGO plays a crucial role in searching your ideal caterers in Gurgaon?
ZOOPGO helps you pick the best from the rest.
ZOOPGO is an e-platform where you can avail the best deals from the varied options to select from. From catering to cleaning, from appliance repair to photography we have answers for all. We assist you to browse through the best quality service providers to match your needs. Our army helps you to bridge the gap between you and the service providers. Our website avails you the facility to compare the prices, check customer reviews, know the position of the service provider in the market and get free of cost quotation according to your requirements.
We also ensure that the service providers on our website are verified and haveachieved expertise in the same.This facility allows you to build a strong bond between us and our customers.
We present you a varied range of caterers all over Delhi, Noida, and Gurgaon all at one stop. This will allow you to browse through all of them and churn the ideal choice of yours. We assist you in your search for the best caterers to suit your occasion accordingly.
After you are aware of the pros of hiring caterer now let's drive towards the tips that we should take a note of.
Here are some of the essential tips you make a note of before choosing one:
1. Design the framework of your budget
Budget proves to be a crucial point of all for hiring caterers.Before you approach them you should have a budget that suits best according to your requirements. Moreover, having one will give a clear view for the caterers to suggest you what to try your hands on.
2. Check out their specimen
It is never harmful to be beware beforehand rather regretting later.
This is one the repetitive scenarios in hiring caterers. Further, the people get attracted to fancy dishes presented by the caterers without knowing the taste of it. And then on the D-Day, it turns out to be hard enough to do the last moment changes. So, try out the samples of your caterers for the plate you have chosen to be served at the function.
Therefore, taste your apples carefully
3. Check for references
Get recommendations from the testimonials column of the caterers. This will assist you to squeeze the detailed information. Reading the experiences of the clients who have dealt with them before will help you know whether they are the one or not?
4. Compare! To perceive the exemplary level of food service
More you compare the better you receive. It is advisable that you get the best deals at the best price. Toggle through varied kind if caterers available to know their respective prices. The pricing plan of the caterers depends accordingly on the quality and quantity they offer.
5. Beware! Beware!
In many situations due to the unawareness in the crowd puts them in trouble. And that trouble comes as a disguise of Extra Charges! Many caterers of cheap quality after doing the work add the unwanted toppings of extra charges in the bill. As people do not inquire about the same beforehand leads them to such scenes.
So to get rid of all these learn more about the pricing schemes and terms and conditions of the caterers. And let them know about how much you can afford to pay them on their extra charges.
And, if you have done proper research work they will guide you to the best! 
The Varied List Of  Catering Services in Gurgaon Offered By ZOOPGO!  
The world of catering isn't small enough to foods and different cuisine. There is a lot more to plunge into this field. The caterers are also categorized in a different niche of their own while some are all-rounder. In the market, there are a variety of caterers to suit the motto of your occasion. Likewise, there are different caterers for kitty parties, housewarming parties, corporate events, weddings, engagement parties, and outdoor caterers.
To your surprise, we at ZOOPGO make you available all these kinds of caterers in one platter.
Choose according to your needs and make your function a HIT!
Learn about the Economics of the Catering Services provided in Gurgaon!
Eager to know the sum of your bill? Let us throw some light on the average rates of caterers that are in the market nowadays.
In the recent run, the price of a plate costs from INR 250 continuing till higher rates of INR1000-2000. The keynote elements which vary the pricing scheme are mainly dependent on the type of meal, cuisine, number of items in your dish etc.
Don't be in the illusion of things getting sorted over here.
Furthermore, we have a shortlist about the,
DO'S AND DON'T'S before hiring your ideal caterers:
DO's
Prepare your budget
Taste the food
Get an organized quotation
Do a healthy research
Compare before choosing one
Be particular with your ingredients
Be clear that you are on the same page as your caterer
DON'T's
Never over interfere in the catering process
Try not to customize your menu on the last minute
Avoid increasing your guest list at the end
Do not let your stress flow
Is your thirst quenched? Not yet? Still getting tangled between some questions?
Alright, we have a way out for that too.
These all perks of hiring caterers sound really soothing to our hearts and gives a consoling feeling to our minds. But as many benefits it beholds, they aren't easy to have them all in one. And, hunt for the one who is just ideal for that work.
What important factors do you can't give a miss when hiring caterers in Gurgaon?
Irrespective of size and type, hiring skilled catering services is imperative to bring deliciousness to your festive affair. Since many catering companies are floating in the virtual cosmos, Google's results seem puzzling. In this blog, we list out some useful tips to zero in on the best caterers in Gurgaon  to create ever-lasting delicious memories. 
#1 Will the caterer is able to cater to your event size?
The first and foremost thing, you ask from caterer whether he will manage to caterer the size of your event or not. Meet him with your guest list. Ask him the type and size of events he has catered to yet. This question is imperative as many caterers are able to handle a large gathering and  vice versa.
#2: Will the caterer travel to your event's location? 
Location is critical; many caterers refuse to provide to cater your event if they find the location beyond a specific radius. So, tell your venue and ask the caterer and check whether he will provide services on your venue or not. 
#3: Is the caterer flexible with the menu? 
Being a successful host can be super daunting. Serving sumptuous food to please guests' palate and ensuring every guest is satisfied is one thing. But there are so many things, which you may have to deal with at the last minute, like food for extra invitees, food allergies, and dietary preferences. Some caterers are rigid with fix-menu, and you can't take chance with them, you must look for one who is willing to travel the extra mile in terms of flexibility.
#4: Is the caterer credible? 
You have to hire those caterers in Gurgaon who will keep up their promises. So you must check his credibility in both the virtual and physical world. Ask their payment methods and terms. Take everything in writing.
#5: Will the caterer offer tasting menus? 
Don't seal the deal until and unless you check the taste of the menu.  It will give you an idea of the presentation and taste of the food; also you can change or tweak the taste if you don't find the food appealing. 
Last remark 
We hope you find the tips useful. So go ZoopGo, the leading web portal in India, and connect catering services in Gurgaon of your choice. 
Bon Appétit!