Hire top caterers in Golf Course Road, Gurgaon through ZoopGo to make your event an irresistible affair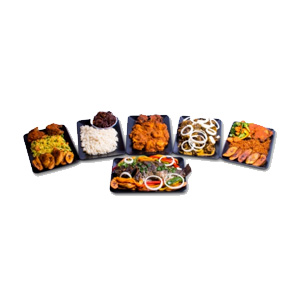 A well-decorated event with a lavish venue fails if the food quality is not up to par. Therefore, food is called the soul of an event. At ZoopGo, we believe the half job is done if you provide tasteful food to your esteemed guests. Therefore, we strive to connect you with the best caterers in Golf Course Road, Gurgaon, to meet your gastronomical requirements in the best way possible and turn your dream event into a delicious reality. From corporate meals to the whole spectrum of weddings, social gatherings, etc., we endeavour to connect you with catering professionals as per your catering requirements. Our catering partners are verified. They go above and beyond to make your event an unforgettable affair with all commitments and perfection. So, you can count on us to hire the best catering professionals in Gurgaon for your occasion, and you won't be disappointed.
3+ Popular styles of catering offered by top caterers in Golf Course Road, Gurgaon 
Buffet Catering - Buffets allow you to serve your guests a greater variety of food in a sizable amount. Your guests will have the flexibility to choose what they like. With a buffet system, you will not have to worry about any of your guests going home hungry. Also, buffets allow your guests to have seconds and tend to cost less. 
Sit-down Catering - A sit-down meal is traditional and elegant. It's suitable for a formal atmosphere. It consists of a three-course meal, and staff serve food to the seated guests. 
Interactive food displays/stations - Interactive food displays are a trending catering style of late. Catering stations offer fun, variety, and taste. They help your guests to mix and mingle. Interactive food displays are most suitable for office and small house parties. You can hire the best small house party caterers in Golf Course Road, Gurgaon, through us. 
Drop off catering - After the COVID outbreak, the health and safety of guests have become the top-most priority for hosts, which has increased the popularity of contactless food delivery. In such a type of catering, food is prepared in a hygienic environment and packed in ready to serve containers and boxes. 
Why choose ZoopGo to hire caterers in Golf Course Road, Gurgaon? 
ZoopGo is ranked amongst India's prominent and most-trusted web aggregator platforms. At ZoopGo, we take pride in offering multiple services under one roof, including:
Complete home services and more
We enlist thousands of verified and licensed catering professionals, including professional wedding caterers in Golf Course Road, Gurgaon. Our partners are front players in the catering world. Hence, you can rest assured of getting unobtrusive, remarkable, and professional service at cost-effective prices. 
Exclusive offerings 
Verified Service Partners 
On-Demand Customer Support 
Happy to assist! Reach out to us at 1800-12312-9655 (Toll-free) or post your requirements by completing the quote request form available on our portal.