Hire the best caterers in Sector 82 Gurgaon through ZoopGo for everlasting, delicious memories!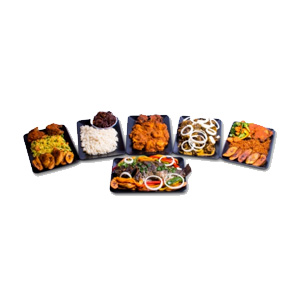 Gurgaon, the Millenium city of India, is known for its rapid urbanization, booming infrastructure, and economic prosperity. In Gurgaon, people live king-size life. Regular parties and events are a part of their lives.
However, a celebration can't be complete with sumptuous food and service. Therefore, to make a celebration irresistibly delicious, hiring the best caterers in Sector 82 Gurgaon through ZoopGo is imperative. ZoopGo, with over a decade of experience, 45000+ happy and satisfied customers, and 1500+ service providers, strive to provide best-in-class catering services to its customers.
3 must-know things before hiring caterers in Sector 82 Gurgaon -
Bank on your budget - Catering is expensive. Therefore, before getting ahead of yourself, start with a budget. By knowing your budget, you will shortlist the caterers easily.
Research their Reputation - Reputation matters! Therefore, begin by seeking recommendations from your friends and family members, but do not stop there. Check their reputation online. However, you must have the ability to differentiate between made-up and authentic reviews.
Taste-testing - Do not be swayed by beautiful photographs or dish names. Go for taste-testing and check if they are willing to adapt to your taste and dietary preferences and requests.
5 important questions to ask caterers in Sector 82 Gurgaon -
Will you be available on my event day?
Ask this in your first correspondence with a catering company to check their availability.
How many years of experience do you have in the catering industry?  
Experience matters! Therefore, it's better to work with a company with an enriched experience, which is knowledgeable about the industry and can handle your event's guest count.
Are you licensed and insured?
FSSAI license is compulsory for catering services. Also, ask for the liquor license from the caterer if you are planning to serve beverages at your party. Plus, work with an insured company because it will cover any injury accidents that may occur during your event.
What is your price, payment policy, and terms?
Be upfront about your budget. If you find services that fit your budget, ask them to provide you with their catering cost in writing, including payment breakage, policy, and terms. Moreover, you can hire professional wedding caterers in Sector 82 Gurgaon at a decent price from our platform.
What is your cancellation policy?
Ask the postponement or cancellation policy of the catering company before sealing any deal because your money will get stuck if the event gets postponed and the caterer doesn't have any policy.
5 reasons to hire caterers in Sector 82 Gurgaon through us
(1) Verified and assured services - Service providers listed on our portal are pre-verified and licensed. Thus, you can rest assured about the quality result. Moreover, you can connect with the best birthday party caterers in 82 Gurgaon through us.
(2) Free four quotes - You can obtain free quotes from the top four service providers through us. Check and compare their prices and go with one best fit in your budget.
(3) Dashboard support - Our Dashboard feature enables our customers to check the reviews of service providers and make a profound choice.
(4) 24/7 care - We care! We provide around-the-clock assistant. You can get in touch with us at any point in time for queries. Further, you can choose us to hire both big and small house party caterers in 82 Gurgaon.
(5) Transparent & cost-effective services - Our platform empowers you to cut through the search engines' chaos and connect with best-in-class catering services at the best possible price. With us, you can reach out to the best non-veg and veg Caterers in Sector 82 Gurgaon in the least amount of time.
Happy to help! For further queries and concerns, reach out to us at our toll-free number 1800-12312-9655.
FAQs
How can I find the best caterers near me in Gurgaon?
You can use top-rated internet portals like ZoopGo to connect with authentic and licensed caterers in your proximity.
How much do caterers in Sector 82 Gurgaon cost per pax?
Catering charges in Sector 82 Gurgaon depend on several factors, like size and type of an event, food menu, dishes on the plate, etc. However, the approximate cost starts from INR 350 and can go up to INR 2200 per pax.
Do non-veg caterers near me offer taste testing?
Usually, professional non-veg caterers offer taste tasting. But, you have to ask them beforehand.
Do caterers in Sector 82 Gurgaon charge for taste testing?
Some caterers offer complimentary tastings, while others charge for it.