Connect with prominent caterers in Rajouri Garden in through ZoopGo, your reliable, value-added aggregator!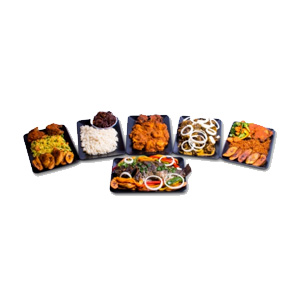 A festivity is as incomplete without a feast as night is incomplete without stars and moon! In Delhi, where flavors are celebrated and cherished, celebrations are the best ways to unveil a treasure trove of flavors. So, if you are in Rajouri Garden and planning to host a fiesta, you have come across the right place. ZoopGo is a prominent name in value add aggregation services in India. With 1500+ service providers, 45000+ happy customers, it has been serving customers for 10+ years now. It strives to provide a bespoke catering experience to its customers by connecting them with well-regarded veg and non-veg caterers in Rajouri Garden.
5 tips for picking the right caterers in Rajouri Garden
See their responsiveness - Are non-veg or veg caterers in Rajouri Garden interested in catering to your party or are they not? Check this before moving any further. It could be figured out with their body language, keenness, and positive attitude. Hire a caterer who is concerned with meeting your needs.
Ability to handle your event - You can't expect a wicketkeeper to bowl excellently until and unless he is an all-rounder, and the same formula applies to other industries as well, including catering. You can't expect a wedding caterer to cater for your corporate event. Be specific about your event's type, and search your catering partner wisely. The best small party caterers in Rajouri Garden are listed on ZoopGo.
Flexibility - You need a menu that best fits your festivity. So you have to choose a culinary expert who can go above and beyond to create delicious gourmet fare that matches your event's theme as well as the dietary needs of your invitees. Furthermore, you can find and connect with the top-notch caterers in Delhi NCR through ZoopGo.
Willingness to provide tastings - You can't judge a book by its cover, similarly, food on the basis of photographs. You must taste sample food to ensure quality, flavor, and presentation before signing on the dotted line.
Insured - If you don't want to legally be on the hook for any accident that may occur due to the caterers' mistakes, work with an insured catering company and protect yourself from any catastrophe.
The reason to choose us to connect with caterers in Rajouri Garden -
If you also lead a busy life and want high-quality, cost-friendly services quickly, under one roof, choose us to connect with your perfect catering partner. Partners listed on our portal are pre-verified, licensed, and front players of the catering world in Rajouri Garden because you deserve the best quality services. Moreover, you can connect with the best birthday party caterers in Rajouri Garden through us.
Services we offer -
Verified and assured services
Instant quotes and bookings
Dashboard for actionable insights
24/7 customer care support
Short notice bookings
High-quality services at an affordable price
Happy to assist! For any further assistance, feel free to reach out to us on our toll-free number 1800-102-9655.
How can I find genuine caterers in Rajouri Garden near me?
ZoopGo is a one-stop solution to find and connect with the well-regarded caterers in Rajouri Garden in your proximity in the least amount of time and at the best possible price.
Why should you hire insured caterers in Rajouri Garden?
Caterers must have insurance coverage to protect against any wear and tear that may occur on venue property or risk of injury to clients and guests. Therefore, when hiring a caterer, their insurance coverage policy is the first thing you should check.
Should I hire caterers in Rajouri Garden for my birthday bash?
If you don't want to indulge in planning, cooking, presenting, serving food, and cleaning up the mess, you must hire caterers in Rajouri Garden. They will save you a whole bunch of time and impress your guests with delectable food and tasteful service.
How early should I book caterers in Rajouri Garden?
You should book caterers 9 to 12 months before the fixed date of your event. However, it's better to book caterers as soon as you start planning for the event or book your venue to lock the vendor, and you will have plenty of time to discuss the menu.