Hire top caterers in East Delhi through ZoopGo for great taste at affordable prices!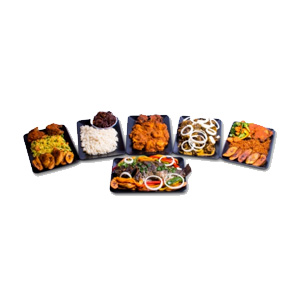 Food & festivity go hand in hand! And who knows it better than Dilliwalas. They live a life of luxury and don't miss a single chance when it comes to partying. Kyon Ki Dilli Walo ko sirf achaa khane ka bahana chahiye! So, if you are planning to host a party, consider hiring professional caterers in East Delhi to add flavors to your celebration. 
Being India's one of the most trusted aggregator platforms, we, at ZoopGo, offer on-demand home, event, logistics, and automobile services by bringing a variety of verified service providers under one umbrella. We intend to connect you with the best veg and non-veg caterers in East Delhi at surprisingly affordable prices. Complete the form available on our portal with your catering requirements and contact info, and you are ready to roll. Our customer support team will send you the most suitable quotes according to your needs and budget. Check and compare those quotes and book a service.  Mayur Vihar Extension
Get excellent catering services in the best localities of East Delhi through ZoopGo 
 (1) Mayur Vihar Extension 
(2) Surajmal Vihar
(3) Jagriti Enclave
(4) Hargobind Enclave
(5) Vasundhara Enclave
(6) Preet Vihar
(7) Swasthya Vihar
(8) Shreshtha Vihar
(9) Yojna Vihar
(10) Patparganj
(11) Krishna Nagar
Elevate your festivities with top caterers in East Delhi 
Whether it's a wedding or a birthday, food is the heart of any event, regardless of culture and tradition. It's something that guests look out for in any event. It can make or break your function. In a nutshell, it's a show-stopper. No matter how much you spend on the venue, décor, and entertainment, all the efforts go in vain if the catering service is not up to mark. If you want to make your wedding a memorable gala, hire wedding caterers in East Delhi through us. Our catering service partners offer a delicious spread of delicacies from all over the world and strive to make your wedding an unforgettable affair. 
9 Delicious street food dishes to incorporate into your celebration:  
(1) Momos - Dilliwalo Ka Pehla Pyaar 
(2) Parathas - The 'Jaan' of Delhi 
(3) Gol Gappe - Dilliwalas all-time favorite
(4) Chole Samosa Chaat - A yummy delicacy
(5) Kulfi Falooda - To satiate the sweet tooth 
(6) Dilli Wali Aloo Chaat
(7) Kebabs - To add the kick in the flavor
(8) Crispy Jalebis - To satisfy sweet cravings in a traditional way 
(9) Chole Kulche - Without it Party hai Adhuri 
Whether birthday or wedding, you can incorporate these street food items into every celebration to uplift it. Moreover, you can hire birthday caterers in East Delhi through us for a delicious and fun-filled birthday party. Whether big, small, or intimate, you can turn every celebration into a culinary extravaganza by hiring professional catering services in Delhi. If you are planning to host a small function at your home to share your happiness with your buddies, hire top small house party caterers in East Delhi through us at affordable prices to add a personal touch to the get-together and make it a huge success. 
Exclusive offerings 
Verified Service Partners 
First Four Free Quotes.
On-Demand Customer Support 
Personalized Dashboard 
Economical Services 
Last Minute Bookings 

Happy to assist! Call us at 1800-12312-9655 (Toll-free). You can also drop us a line at support@zoopgo.