Hire Skilled and Professional Painting Contractors in Pune via ZoopGo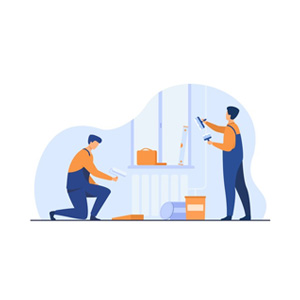 We all love our abode and want to spend the major fractions of our lives in our house. As time passes, the aesthetics of our house begin to diminish due to varied factors such as adverse climate conditions, carelessness, and damage caused by rust.  We want to renovate our house by using different techniques. Painting your house and walls is one of the simplest and magnificent ways to adorn your house with different colors and improve the look and appeal of our home. If you are living in Pune, you would love to acquire the support of the Top Painting Contractors in Pune.
Why Should We Hire Professional House Painters in Pune?
If you are shifting to a new house, or want to renovate your current abode, choosing professional House Painters in Pune is a significant decision for you. Look at the following advantages of hiring professional painters.
Professionals Deliver Top-Notch Painting Results: Painting our house is a superb job but if we randomly decide painting our house, it can adversely impact the aesthetics of our home. So, we should choose professional Exterior and Interior Painters in Pune.
Professional Painters Can Transform the Aesthetics of Your House: You will feel surprised to know that professional painters can transform the aesthetics of your sweet abode. They will choose colors that are vibrant and can make your sweet abode look stunning.
It Easily Replenish the Old Appeal of Your Home: Many people have emotional sentiments associated with a particular place. Therefore, hiring professional painters gives them a significant advantage as they can easily replenish the old appeal of your home by making you feel satisfied.
How to Pick the Best Painting Contractors in Pune via the Top Online Portals like ZoopGo?
Picking skilled painting contractors is one of the most arduous tasks for everyone who is looking forward to hiring professional painting services. Whether you want to paint every nook and cranny of your house or want to opt for Wall Painters in Pune, choosing skilled painters is very much important. Hitting the right platform for connecting with the best service providers is also important. The top online portals like ZoopGo acts as a one-stop solution provider to connect with the top and verified painting contractors. The following steps are crucial to assist you in connecting with the best painting contractors.
Go to ZoopGo.com and choose painting services from the home page.
Now, select the type of painting services you want from our esteemed platforms such as Full Home Painters, Water Proofing, White Wash Painters, Wall Painters, or Office Shop Painters.
You should choose the required date and location where you want the support of painting contractors.
After that, you will have to submit your name, and contact number so that our customer support department representatives may call you and fetch the details from you.
You can get free of cost quotations from at least three to four professionals and you can easily compare the reviews and ratings through our dashboard facility.
We ensure to connect you with verified painting contractors as our experts check the original Pan Card, Aadhar Card, and Certificate of Incorporation of our business partners.
How to Contact ZoopGo to Connect with Exterior and Interior Painters in Pune?
You can give us a buzz at our toll-free number 1800-12312-9655 or shoot an email to us at [email protected].
Frequently Asked Questions:
Can we get Access to Certified Painters via ZoopGo?
If you are searching for painting contractors to paint your house or you want to pick the best painters for accomplishing painting your commercial establishment or shop, ZoopGo is a top online portal that can help you in connecting with the best and certified painters. Through our esteemed platform, you can enjoy access to verified professionals as our experts check the original Pan Card, Aadhar Card, and Certificate of Incorporation of our business partners before connecting them with verified service providers.
What is the Approximate Price for hiring Painting Contractors in Pune?
Hiring painting contractors is an essential job for all of us and whenever we want to hire Home Painting Services near me, we are concerned about the prices of painting services at a particular location say Pune. To help you out in making your painting journey easy, we are listing the approximate price of hiring painting contractors.
| | |
| --- | --- |
| Types of BHK | Price for Hiring Painting Contractors |
| One BHK | 40000-55000 INR Approximately |
| Two BHK | 55000-7000O INR Approximately |
| Three BHK | 60000-75000 INR Approximately |
| Four BHK | 90000-120000 INR Approximately |

What is the Ideal Season to paint your home and hire the services of Painting Contractors in Pune?
Summer season and rainy season are not perfect for painting your home but if we choose winters we ensure having a smooth environment for painting our home and hire professional painters via esteemed online portals such as ZoopGo.