Top Painters & Painting Services in Gurgaon For Home And Office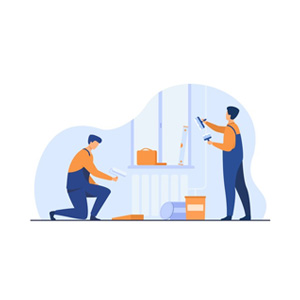 The best of the professional painters in Gurugram from Zoopgo splash the beautiful colors in the walls of your home & office perfectly. A house converts to a home when you feel the comfort and warmth once you enter it. This comfort and warmth can be achieved when your home is painted with bright & vibrant colors and great designs. A well-painted home or office surely radiates happiness and build the much-desired ambiance. We have several professional painters registered with us in Zoopgo who offers the best quality home painting and commercial painting services for stand-alone houses, apartments/flats, offices, residential buildings, schools, shopping malls, resorts, hotels, or any kind of commercial building.
The teams of professional painters who are registered with Zoopgo use the best brands of the paint like Berger, Asian Paints, Nerolac, Dulux, etc., and also discuss with the concerned clients if they have any special brand preference. In case a client is keen on any specific brand of paint, they make it a point to choose that specific brand for sure. The expert painters of Zoopgo offers the best interior and exterior painting, wall texture and wall stencil painting and several more specialized painting techniques.
Why Zoopgo For Hiring Painters In Gurgaon?
All painters enlisted with us are verified & professional painters working in Gurgaon.
Arrangement for free visit & site inspection.
Arrangement for free paint color & finishing ideas/consultation from the experts.
Availability of color shades from all major paint brands- Berger, Asian Paints, Dulux, and Nerolac.
Innovative and eye-catching color combinations.
Top brand paints of high quality are being used.
Easy to book our services, perfect turn-around time for completion and convenient hassle-free service.
The convenient option of paying online or after completion of the service.
How does it Work?
Painting services with the credentials of the professional painters are enlisted at the Zoopgo portal.
The painters enlisted are verified professionals and assures the usage of premium products and vouches assured standards in terms of quality.
You need to book an appointment with the painter of your choice right at the comfort of your home only with a few clicks.
Final price would be quoted after the inspection and the scope of work.
Major Painting Services in Gurgaon
Interior Painting –Our painters have a wide range of color combinations & textures to suggest to their clients to decorate and give a makeover to your interiors. Our experts are aware of various techniques & tricks which will help you in receiving the desired results. The interior spaces include the living room, kitchen, dining room, bedrooms, bathroom, windows & doors.
Exterior Painting - Our expert painters make your home stand out amongst all others with our exceptional exterior painting services. The exteriors of a house include the home exterior walls, doors and windows, railings and fence painting.
Wall Stencil Painting –Wall stencil painting is a perfect alternative to the designer wallpapers. You have the option of customizing all your DIY stencil projects with the help of your favourite combination of the shades and patterns. Whether you prefer the classic wall stencils or if you are fond of trendy wall stencils, our expert painters would provide you a brand new punch of personality and pattern to your home and office. You have a wide choice whether you want to use your wall stencil painting in your bedroom or throughout your kitchen- our expert painters would help you get the dream makeover of your home or office.
Wall Texture Painting – Wall texture painting involves offering a wide array of special effects to your interior walls in your home or office. Wall texture painting is being inspired by different themes from across the globe. Our expert painters have the capability of offering a wide range of wall texture painting.
Metal Painting- Whether it is aluminum, wrought iron or any other metal, there are several specialized techniques for painting the different metal surfaces. The specialized processes of painting metals like the columns, railings, decorative outdoor lamps, and roof vents are being done by our expert painters.
Wood Painting – Wood painting is a specialized process when the wooden surfaces are firstly sanded and then stained with the chosen design. There are specialized wood stains available which give you the look of Teak or Mahogany. Finally, the wooden surface is given the final polish for a perfect finishing. Our expert painters offer the best wood painting.
New Painting Service – The new painting service is painting your home or office for the first time after the construction or renovation.   Our expert painters are the best suitable professionals offering perfect new painting service.
Re-Painting Service – The interiors of your home or office requires being re-painted once every 2-3 years whereas the exterior walls are to be re-painted once every 4-5 years. Our expert painters are best in offering the best re-painting services. 
Rental Painting Service – The rental painting service is a new concept where the walls are given a touchup of putty and paints to make it look new and fresh after a tenant has moved out of a rented house. The rental painting can help in attracting the next tenant easily and can be completed in a maximum of 3 days depending on the size of the house. Our expert painters offer the best rental painting service.
Residential Painting Service - Our expert team of licensed screened & bonded painters is helping the homeowners in getting the house of their dreams. We provide the most fantastic residential painting services at the most affordable rates which results in ultimate customer delight.
Commercial Painting Service – Our expert team of painters is the best in offering the best commercial painting services for your offices, fitness and gym centers, warehouses, and also the property management organizations.