Why do you need professionals for Furniture Painting Services in Gurgaon or anywhere elsei.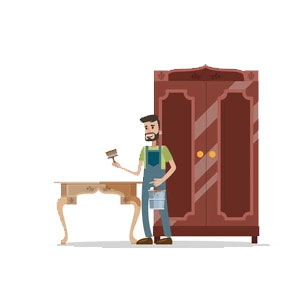 Whether at your home or at your workplace, we all have furniture for various purposes. For sitting, for dining, for writing, for storing clothes, for storing utensils, for display, for praying, for preparing meals and any other purpose you can think of. These can be made of wood or metal or plastic. Everyone has his or her choice in what they want in their house. To make your furniture look beautiful you can paint it and repaint it to look different.
What does furniture painting involve?
The Furniture Painting Services in Gurgaon serves at competitive rates and provides excellent service. They charge different prices for different furniture painting techniques as for some the paint and other materials are expensive while others require more time and effort. Different painting techniques are recommended for furniture made of different materials. Paint spraying is recommended for plastic, while oil-based paint is recommended for wooden furniture. Water-based paint is recommended, by those painters involved in Wooden Painting In Gurgaon, for giving a totally different, used-up look to your furniture. In some cases, you will have to remove the old paint from your furniture while in other cases you can paint over the earlier paint.
What does furniture polishing involve?
If you like your wooden furniture and want that it lasts long enough, you can get it polished.  Wood Polishing in Gurgaon is done at reasonable rates and within time. It's best to take your furniture to the polishing place and get it done there as you won't have to worry about cleaning up after.  There are again different wood polishing materials and as their pricing varies, so will the price of the service provided to you.
Hazards involved with furniture painting
So, how about DIY? Do It Yourself is a good idea, but in the case of painting furniture hiring professionals in an even better idea. Working with paints can be hazardous, you need to properly cover yourself while painting. If anything goes wrong the mistakes can be expensive. To keep yourself on the safe side, get those with experience, let them do it for you.
So, how do we fit in with all of this?
ZoopGo is an expert when it comes to connecting you with the right service providers.  You need to fill a small requirements form, requiring you to indicate whether you want to freshly paint or re-paint your furniture. Next, you will choose whether your furniture is at home or office. Providing the date and venue, with your contact details will allow us to send 4 best quotes to you, listing those furniture painters who match your requirements and services in your locality.   
Most of the wood painters and polishers listed on ZoopGo provide pick and drop facility. Practice makes perfect and these experienced furniture painters have seen it all. You can choose the color of the paint and how you want your furniture polished.  All listed service providers are registered with us and have been verified, Visit us to get the best furniture painters in Gurgaon.