Painters in Faridabad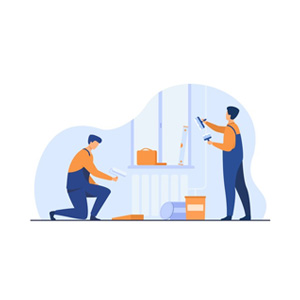 There is hardly anyone who would not like to renovate and remodel their homes into a beautiful living paradise and elevate their homes' splendor to new heights. The simplest and most fashionable way to do this is to paint your home's walls attractively, both inside and out, in the shade of paint that you love and that we offer to all of our customers. At Zoopgo, we provide you with a platform to select the most qualified and experienced painters in Faridabad who can assist you in decorating your home and ensuring complete protection from additional damage.
A team of painters, achievers, and problem-solvers from Zoopgo are working to change the way that houses and other buildings are painted. All of the painters we provide are knowledgeable and full of creative ideas to advance painting methods. Our painting collaborators employ paints with mechanisms like oil-based (alkyd) and water-based (latex).
How to Hire a Professional Painters in Faridabad From ZoopGo?
Everyone seeks a skilled painter who can create a fantastic experience. Today, it's simple to discover a qualified and experienced painter thanks to creative digitization. Zoopgo also offers painting contractor booking through internet directories so that potential customers may view our extensive portfolio and make a decision. Prior to looking for a professional painter, it's important for clients to learn more about the painters, their knowledge of the business's strategy, as well as their tools and equipment.
1). To hire a qualified painter to paint your home or business, go to our website, www.zoopgo.com, or download the Zoopgo app.
2). Choose the painting service type that you desire.
3). Select the location and the kind of painting service you require after which you can input further details like your name and phone number.
4). Your needs will be taken into account when matching you with painters after you have successfully completed the aforementioned request.
Types of Services Offered by Painters in Faridabad
1). House Painting: Renovating and painting your home may be a lot of fun. Your home unpredictably becomes a huge canvas that you can design to look as you like. However, it might be a massive task to investigate the acceptable and spectacular colors, instruments, items, types, and artists. Our goal is to make painting a house a hassle-free experience. Zoopgo is renowned for its excellent service; from picking the right materials, equipment, and colors to doing the job quickly and efficiently, this is the premium response to all of your painting needs. We provide two different sorts of home painting services in Faridabad:
Fresh Painting: Fresh painting refers to the first time you paint in a new place, such as a home or office, and it contains a variety of painting supplies, such as brushes, paints, oil, and paints. Do not worry; all of the top-notch fresh painting services are covered by a one-year descending guarantee from our partners and service providers at Zoopgo. The new painting also covers the creation of unique works of art, the transformation of walls into lovely wallpapers, the preference of a bright room for your children, and even the creation of a framed canvas print of your amazing creation.
Repainting: Repainting services mean painting your home and business space once more. The skilled team of painters evaluates your home, assesses your needs for house repainting, and has a conversation with you. This will help you choose the tools and goods that will support both your strategy and your budget. Please feel free to find the same on Zoopgo if you're looking for expert color advice.
2). Office or Shop Painting: What is the main reason people choose to paint their homes or offices? They want innovation to flow through their former workplaces/stores once more, and they want it to look fantastic. However, more than just an extremely conservative layer of paint may be required to make your office or shop appear huge. Some business or store owners may only need their cabin to be repainted, while others may also need the deck stained in addition to the exterior painted.
Interior office/shop painting: Our interior office/house painting service will give your workspace a fresh coat of paint and give you a unique, cutting-edge appearance. With a generous appearing layer of paint, revitalize your cabin, modernize your staff area, and bring style to the entire office appearance.
Exterior office/shop painting: Using our external office painting, you may protect your workplace from the craziness of contemporary culture. Whether your outside is brick, vinyl, stucco, or aluminum, our upcoming team of professional office painters will complete the job.
3). Whitewash: We provide our clients beautiful and eye-catching whitewashing services. We provide you with a way that is inviting and peaceful. Picture yourself waking up in a bedroom or living space that appears lovely with brilliant hues and lots of artistic needs. We provide you with a wide range of unique whitewashing services in Faridabad because we want to help you realize your full idea.
Pressure Whitewashing: The secret to getting rid of years' worth of grime and dirt from your possessions is power washing. To give your house a basic and tidy appearance, we may whitewash your siding, walls, deck, and walkway. Pressure whitewashing has the added benefit of ensuring that the paint is properly absorbed when we paint the exterior of a house.
Color Consultation: We offer an outstanding color discussion service because the variety of colors available can be enticing. We will explain the differences between satin, gloss, and matte finishes as well as help you choose colors that complement your artistic style and have incredibly long-lasting effects.