Look for the most professional furniture painters in Faridabad and change the look of your house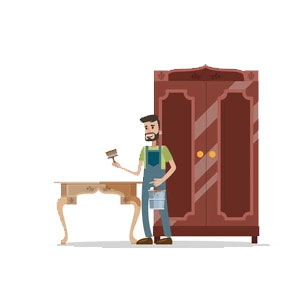 In order to give your furniture a new and improved look from time-to-time, it is essential for you to hire the best furniture painters in Faridabad and get the job done at an inexpensive price. Though there are many assumptions regarding what is the best kind of paint for your furniture, it wholly depends upon your needs and requirements. At Zoopgo, we provide you with a team of experienced and trained furniture painters whose main focus is to give you high-quality results. We have a firm belief in providing absolute customer satisfaction so that you can enjoy our services without facing any discomfort.
If you wish to hire a professional furniture painter at Zoopgo, here is the list of some steps which you need to follow:
You need to download the app or you can also visit our website www.zoopgo.com to hire an expert furniture painter for your residence, workplace or any other building.
Now, you need to select the type of painting service you wish to have.
After selecting the type painting service and desired location, you have to enter your personal information like your name and contact number.
After following the above-mentioned step, you will immediately get matched with the furniture painter according to your preferences.
Do not forget to check out the reviews, ratings, and portfolio of the furniture painter before you take the final hiring decision.
There are many kinds of services being offered by our Furniture Painters in Faridabad which includes:
The Latex Paint –Being a water-based and most inexpensive type of paint, it comes in the wide range of sheens that varies from gloss to flat so that you can decide the exact quantity of shine you want.Besides, you do not even need a top coat in this case.
The Chalk Paint –It is a chalky paint that does not need a lot of prep work and gets finished in a matte and soft finish. You can use this paint service at Zoopgo to give your furniture the shabby-chic look and since it dries quickly, it is easy for you to re-coat it as well.
The Milk Paint –One of the major benefits of using this paint is the fact that it gives your furniture a natural look and can be used on your antique sofas, cupboards etc. It is quite versatile in nature and is widely used by the professionals at Zoopgo to produce different finishes.
The Acrylic Paint –There is a reason why this paint is being used for so many years as you can use it for both exteriors as well as interior applications. This is the perfect choice for you to paint the cabinets in a beautiful manner since it is highly durable and offers you a smooth finish as well.