Let Your Home Speak with Vibrant Colors and Top Painting Services in Mumbai from ZoopGo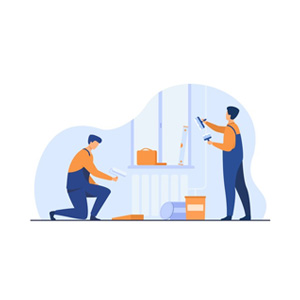 Everyone wishes to build and decorate one's home at his/her best ability and imagination and for this purpose people liquidate hefty amount. In terms of the beautification of elegant homes, House Painting Services play pivotal roles. Top-quality colors, vibrant combination, and alluring designs are the core concepts that need to be worked out carefully by the hand of highly accomplished and reliable Asian Paint Contractors on ZoopGo online platform.   In the present scenario, there are various advanced tools through which we promise you the most desirable results. On the other hand, durability is one of the most focused terms that need special attention and all our dedicated and certified Wall Painting Contractors ensure our clients to use the most perfect products and enamels to make the painting more durable and fresh for years.
ZoopGo helps you to maximize the aesthetic appeal of your homes and building properties while ensuring that they are perfectly free of damaging factors by introducing you to the most verified and popular Painting Contractors. Shutter Painting Contractors and other Painting Services deal with both exterior and interior wall paints that last for an extended time span. Painting a property is not an easy task and needs the interference of skilled professionals like a painting contractor. Their rich experience and vast knowledge in the field help them to meet the requirements of their clients most proficiently.
Obtain smooth Painting Services in Mumbai through the most reputed contractors instantly on ZoopGo
After tolerating long years of constant torture from dust, smoke, and extreme weather conditions the external paint of any property is bound to become fade. Even the interior house paint may suffer damages after a few years, and repainting service remains to be the only solution. ZoopGo offers you the most durable and desirable painting services through professional Wall Painting Contractors, experienced in both commercial and house painting services. These professionals also suggest the best color schemes to bring more compliments to your beautiful home.
How does ZoopGo help you in choosing the best Asian Paint Contractors?
You can search for Painting Services in Mumbai on the basis of your location and budget. To get the ZoopGo best offers, just you need to fill up the online inquiry form with general information. And then, within 15 to 20 minutes, you can negotiate with Wall Painting Contactors in Mumbai and in any city. ZoopGo entertains a business partner only who qualifies its thorough verification process. So, the most perfect satisfaction on all fronts is highly secured with ZoopGo.
Customized House Painting Services Offered by ZoopGo listed house painters
Paints are applied on surfaces to protect them against various unfavorable weather conditions, dust, and dampness enhancing the look of the surface. House painters and Shutter painting Contractors enrolled with ZoopGo are truly talented professionals who use creative painting schemes to give your house an appealing and refreshing look. A new coat of paint brings out a captivating look to your house and helps you avoid bacterial insects and mold.
5 elegant decor ideas for your walls with interiors House Painters in Mumbai at ZoopGo
The era of monochromic walls is gone. Now the designers are representing the new heights of styling different parts of your home. Believe it or not but it brings new life and a complete transformation to the dull walls. So, house painters in Mumbai at ZoopGo are a web portal that is also known for its multiple services in India.
Hence, our wall artists caught up on all the designs with enthusiastic color combinations. From every square foot to the blend of colors we give the charisma of living. Therefore, recent research also shows that the color of your home can boost your mood. Rather it's a warm shade or a cold color palette it defines your entire day of psychological health. 
So, be smart and choose a suitable shade, pattern, or texture carefully. Here, ZoopGo hunts some creative color scheme that blows your senses for your ideal residential area.  
…….3-2-1 let's start! 
The unexpected ideas for an ideal home Decor:
Try out some different painting techniques: A slight chic wall with astounding textures and patterns leverages the beauty of your residency. You can try Stencils, Harlequin, Metallics, Stripes, Color Wash, Strié, Rag Rolling, Sponging, and Checkerboard. 
Some extraordinary wallpapers: A PVC or coated vinyl, Fabric, Non-Woven, Paper-backed vinyl, or more with the blend of uncountable theme designs. Don't you think it will look better on the walls of your home? 
An Enamour Artwork: You can be a Picasso or your own artist. Be bold and spread a bucket full of color or you can try some beautiful brush strokes with marvellous paintings and designs. 
Some Metallic Solid touch: If you're very fond of simple but good then go with some pastel shades with the metallic shiny wall can be a great choice of yours. 
Plaster Design: Wondering how to make your walls classic? Well, the carving in the plaster of Paris is a quiet eye-catching interior.
Think big while choosing your wall colors!
Big means as your entire-nest! Carefully overview your home and every corner of the walls and ask yourself –"How I can fill this empty wall with a different shade or which texture suits it?" It will be beneficial to know the different hues for your home rather it's all your blues and violets they know your choices better.     
Put all these together you'll end up with beautiful wall painting ideas that leverage the beauty of your home. Be wise and invest your time and money with a genuine one for further better services.
Other colorful shades for you!
Now you know which one suits your wall. So, are you ready to make the side of your wall into a masterpiece? If yes then surf the web portal of ZoopGo you will end up with a better house painting cost in Mumbai. So, the wait is over now! You just need to connect with us on call at 1800-12312-9655 or share your suggestion at [email protected].