Office Painting Contractors in Mumbai: A Good Selection to Choose From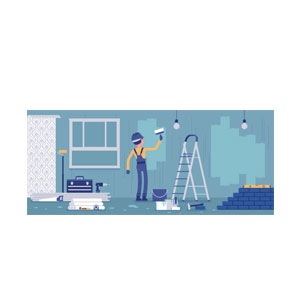 Offices are as important a part of our lives as are our homes. After your degree, you spend a large part of your time sharing your workspace with a number of individuals with different capabilities and lifestyle choices. You may have your own cabin or you may share your desk with someone. Whether you are the boss or office junior you are all together in this little space for 8 or more hours for 5-6 days a week. When you arrive in the morning or while you are busy at work or enjoying your coffee in break time, this is the setup you see every day around you and you react to it like everyone else around you.
Who decides on when to Paint and how to paint your office?    
Of course, the boss does, but usually after discussions with the office staff. When to paint will be calculated by you based on your needs. Your office is what makes the first impression when someone comes to do business with you. Yes, the office place will be closed for 1-2 days but it is important. As to what the final effect will be like, you should let your different departments choose how they want the walls of their room to be painted and mediate when they are not able to reach the final decision. 
Corporate building painting services Mumbai
Choosing the right painters will be an important decision as you will select them on the basis of quality and affordability. Corporate building painters offer the same services in terms of painting as all painters, but they are categorized separately for the experience they have with corporate spaces. They have to paint the interiors and the exteriors which can be of different shapes, sizes and can be on any floor of a multi-storey building. The corporate building painters have faced all these situations already and come prepared with everything that is required. 
Cheaper options
If you don't have enough budgets for corporate painters you can choose any Wall Painters in Mumbai. They serve as individuals but they know what they are doing. However, you will have to make some efforts yourself, in moving furniture out of the rooms and observing whether the work is being done as per your expectations. 
ZoopGo and office painters
If you are looking for painters to paint your offices, ZoopGo is the portal you can trust. Just select the office painters from our list of painting requirements. Select your location and date when you want your premises painted and 4 best quotes from the painters best suited to your requirements will be on your mobile in minutes. Most of the office painters listed by us are experienced and have excellent reviews written about them. We have reviewed their backgrounds and cross checked their documents. They are all registered with us and we have confirmed all the details they have given us.  
ZoopGo links you to the best painters for your office, as per your needs in terms of costing and the final look you want to see on your office walls. These professionals will serve you in every capacity and take pride in their work.