Hire the best painters in Airoli through ZoopGo & Give Your Space a New & Fresh Feel!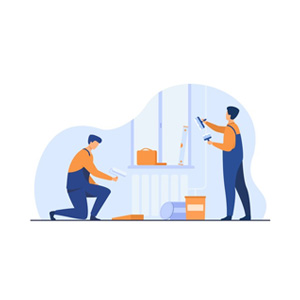 Your home is like a blank canvas. It is seeking an artist who, with his art, turns it into a masterpiece. Indeed, a fresh coat of house paint is the best way to make it look aesthetically pleasing and cheerful. So if you want to change the look and feel of your space, you must hire painters in Airoli through ZoopGo and give your sweet abode the happiness and liveliness it deserves.
We at ZoopGo, with 10+ years of experience in-home services, 45000+ happy customers, 1500+ service providers, endeavour to connect you with the best painters in Airoli and turn your home into a colourful paradise.
Why should you opt for painters in Airoli through us?
There's a famous saying by Pablo Picasso that goes by "Painting is just another way of keeping a diary". Believe it or not but your home is nothing but an expression and reflection of your intrinsic self. Therefore, you need to hire legit and assured house painters in Airoli through ZoopGo, who with their know-how, experience, and skills, give life to your creative imagination. Service providers listed on our platform are certified and assured. They with their quality services make your home look more elegant and expensive.
What are the benefits of hiring painters in Airoli through us?
Hiring painters in Airoli through us can benefit you in more ways than one. Here, we've enlisted a few.
Your time is saved - House painting is not a joke. If you opt for DIY painting, you have to do a number of tasks like prep the walls, fill up the holes, etc. But when choose us to hire professional wall painters in Airoli, you can sit relax and enjoy the process because professionals will take care of your walls.
Quality work - When you hire professional painters through us, all you get is the quality outcome. Professionals associated with us use the latest and high-quality products that best suits your home's walls. Moreover, you can get the best whitewash services in Airoli through us.
Detailed to perfection - When you hire through our platform, the result you will get results beyond your expectations. Indeed, professional painters will pay attention to the small details and finish your home's painting as per the latest, trendiest and most exclusive finishes. Moreover, if you are seeking furniture painting services in Airoli, then look no further, visit ZoopGo and hire top-notch painters and embellish your home with beautiful hues.
Well-equipped - Painting is not limited to paintbrushes and colours. It requires a lot more. Professional painters registered with us are equipped with safety gear, caulk and patching tools.
Our unique features -
Quick four quotes with one Click
Round the clock customer support with voice and non-voice process
Verified and assured services
Insightful dashboard
Simple, fast, and affordable service
For any further assistance or questions, you can call us on our toll-free number - 1800-12312-9655.
FAQs
How can I find professional painters in Mulund?
Google is the most convenient method of finding a professional painter/team. However, it's not reliable. To find professional and verified services, you need to use legitimate internet platforms such as ZoopGo. These platforms are an excellent means of connecting with verified service providers. Moreover, you can get referrals from your friends and neighbours.
Can I paint walls over whitewash?
Yes, you can. However, you need to prepare the surface of your house's walls for that. Moreover, you can obtain verified and quality whitewash services in Mulund through authentic internet portals like ZoopGo.