5 elegant decor ideas for your walls with interiors House Painters in Mumbai at ZoopGo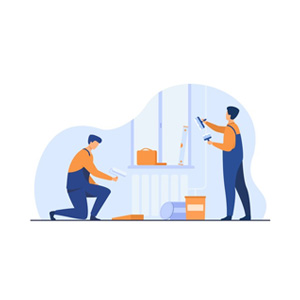 The era of monochromic walls is gone. Now the designers are representing the new heights of styling different parts of your home. Believe it or not but it brings new life and a complete transformation to the dull walls. So, house painters in Mumbai at ZoopGo are a web portal that is also known for its multiple services in India.
Hence, our wall artists caught up on all the designs with enthusiastic color combinations. From every square foot to the blend of colors we give the charisma of living. Therefore, recent research also shows that the color of your home can boost your mood. Rather it's a warm shade or a cold color palette it defines your entire day of psychological health. 
So, be smart and choose a suitable shade, pattern, or texture carefully. Here, ZoopGo hunts some creative color scheme that blows your senses for your ideal residential area.  
…….3-2-1 let's start! 
The unexpected ideas for an ideal home Décor:
Try out some different painting techniques: A slight chic wall with astounding textures and patterns leverages the beauty of your residency. You can try Stencils, Harlequin, Metallics, Stripes, Color Wash, Strié, Rag Rolling, Sponging, and Checkerboard. 
Some extraordinary wallpapers: A PVC or coated vinyl, Fabric, Non-Woven, Paper-backed vinyl, or more with the blend of uncountable theme designs. Don't you think it will look better on the walls of your home? 
An Enamour Artwork: You can be a Picasso or your own artist. Be bold and spread a bucket full of color or you can try some beautiful brush strokes with marvellous paintings and designs. 
Some Metallic Solid touch: If you're very fond of simple but good then go with some pastel shades with the metallic shiny wall can be a great choice of yours. 
Plaster Design: Wondering how to make your walls classic? Well, the carving in the plaster of Paris is a quiet eye-catching interior.
Think big while choosing your wall colors!
Big means as your entire-nest! Carefully overview your home and every corner of the walls and ask yourself –"How I can fill this empty wall with a different shade or which texture suits it?" It will be beneficial to know the different hues for your home rather it's all your blues and violets they know your choices better.     
Put all these together you'll end up with beautiful wall painting ideas that leverage the beauty of your home. Be wise and invest your time and money with a genuine one for further better services.
Other colorful shades for you!
Now you know which one suits your wall. So, are you ready to make the side of your wall into a masterpiece? If yes then surf the web portal of ZoopGo you will end up with a better house painting cost in Mumbai. So, the wait is over now! You just need to connect with us on call at 1800-12312-9655 or share your suggestion at [email protected].