Top Painters & Painting Services in Noida for Home and Office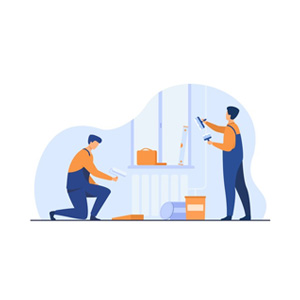 Noida is a busy city. People come here to study and also to work. As a result of this, there is an increase in the number of people who are in search of a good as well as a properly maintained house to reside in. Consequently painting a house is a necessary task. A well-maintained house that is painted in bright colors will make you feel that you are at home. At ZoopGo we will create a colorful place for you.  Let the creative experts you hire from us paint your house with outstanding hues. Fill up your lives with the color of joy as well as happiness. Just look around and get hold of us. With ZoopGo to help you out, you will not only get hold of house painters in Noida but also office or shop painters along with great wall painters.
How to keep the costs low while hiring a painter in Noida?
Hiring a painter in Noida via the internet will be the ideal way to get the costs related to painting a house/office reduced. At ZoopGo you can get hold of several professionals in Noida. They will try to offer these services at an affordable rate as several choices will be available to you. So if you contact them personally you will never be able to get the offers and discounts that they will give you while you get in touch with them through us. The cost will also be minimized if you know what you are in search of. Ask your painter to make an understanding of how much time will be required, what materials will be needed, or whether any extra help is necessary or not. This will help him to complete the job fast. To minimize the cost related to hiring such painters in Noida, try to discuss your requirement with them because if there is any over-run, increased expenses will take place. Even if you are worried about the expenses, then you can get hold of those styles for painting a house/office that will never require too many skills and any latest material.
What type of painters are there in Noida?
At ZoopGo, we will provide you with specialist painters for every job. So be at a house painting work or getting your office, shop or a college painted these painters whom you will hire will offer striking colors and thus create a beautifully finished work for your space. The selection of paint scheme will be vital irrespective of whether you select a warm, traditional style for your home or a dazzling one for your shop. Each of the styles will require various skills from the professionals such as various paints that should be used as well as the involved brushwork. We will also aid you in finding painters with various specialist skills. You can select a basic painter or a true artist- the choice is yours depending on your requirement. You can also look out for exterior painters who will make sure that your house looks great and gets the ultimate protection from harsh climatic conditions. In the case of painting walls, more attention should be given as it is a vital part of the construction. Wall paint will protect a place as well as add beauty along with creativity. So for proper wall painting, you should hire well-skilled wall painters to get the ultimate benefit. But the type of color that you will choose along with the quality and design will speak a lot regarding your personality and lifestyle. So we will help you to wisely select from the huge variety of each and every possible choice.
How to Hire a Painter in Noida from ZoopGo?
At ZoopGo, we offer you different types of professional painters to make sure that you receive great service in Noida for each of your requirements. All the experts whom you will hire are well experienced as well as have a great track record. Each of them is approved after they clear several background checks. These professionals will offer great services at affordable prices and hence you never have to worry about the cost of painting your house or office. Once all the information is provided by you, it is forwarded to the qualified painters who will contact you within the next 24 hours. You can hire a painter who will suit your preferences. You can just type " Painters in Noida near me" and get the required results. Getting a house or office painted is much easier than you can think of. A fresh coat of colorful paints will breathe a new life into a home or office and also in your life. Make the correct choice for paint and could live happily. Hence here is the guide on how you can hire a painter from ZoopGo:
Visit our website.
Click on the link Painters or you can search painters by typing it in the search bar. Select a city like Noida.
A questionnaire will pop up. It will give us an idea of what you require.
Questions such as the place where the paint will be done will appear at first. You can select from Home, office/shop, etc.
Then go through our rate card, high quality, and on-time service.
Then there will be options to select interior paint which will include whether you wish to paint your full house or some selected areas. In the case of a full house, you have to mention the size of your house and if you select some selected spaces then mention the space such as the living room, bedroom, kitchen, or bathroom you want to get painted.
Select if you wish to paint all the walls of your house/office or just some selected ones and then choose the size of your house/office. Thus you can get hold of interior painters in Noida for your space.
After this select the paint type that you prefer.
If you are looking for exterior painters then select if you wish to paint all four exterior walls or only the front along with the back. After that choose the plot area where the structure is present.
Then select the type of house paint you want for the exterior of your house/office.
Pick a preferable time for the experts to start their work.
Enter the location and your contact number and use your credentials to create an account and log in.
Why choose ZoopGo for home Painting Services near me in Noida?
Great concept: At ZoopGo we will aid you to get in touch with professional painters in Noida who will make use of great products as well as a painting process that is customer friendly. Thus it will also allow them to get your house/office painted in less time.
Excellent quality standards: Finish of high quality, great coverage as well as smooth walls will be provided with the use of paints of well-known brands.
Latest equipment: The professionals will make use of the latest tools that will aid them in obtaining a better finish within a short span of time.
Experience free from hassle: The entire process of hiring a professional, selecting shades, providing the required information, payment, etc is done online. No need to meet them up and visit various marketplaces to confirm the deal and wasting several days. We at ZoopGo assure you total peace of mind. Just sit and feel relaxed. Our professional will get your house painted without bothering you much.
Worth the money: You can compare the painting service with other services and understand how reasonable service our experts offer you.
So at ZoopGo, we will offer you a wide range of painting options for each and every architectural building such as houses, offices, shops, schools, colleges, malls, gyms, etc. We are here to aid you in getting your place painted in great colors, textures as well as themes by providing you great professionals in Noida.