Top Wall Painters in Noida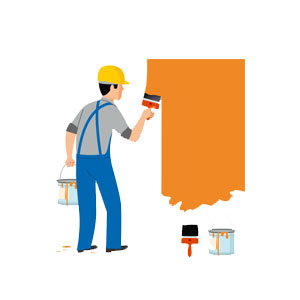 Want to get your house a good makeover but not being able to decide whether to hire local painters or professionals in Noida? Take it from ZoopGo. Consider thinking twice before you get your house painting plans fixed. You may get your work done by local painters at a cheaper option. But it can be said that there is no 100% guarantee on the aspect of quality. Why not go for a premium service by our professional and skilled workers to give your house the flawless looks with an affordable increase in the budget? Here are some facts we pointed out why hiring a profession paint worker is a better alternative:
Use the right tools for the project: Getting a great job done on this field requires good quality paint. But along with that, eminent tools are also equally important for utilizing the paint in a perfect manner. If you go for the professional service, the best quality equipment usage also comes along with it. Rollers, mechanized mixtures, pressure cleaners, and much more important equipment are also on the tick-list for getting a flawless finishing. Key factors regarding this matter like the proficient tools in their best condition, with inventory management in good practice ensures delivering picturesque and desired results.
Standard of workmanship:  Well-trained painters who are capable of conducting appropriate supervision and adherence reassures that customer satisfaction without exception. In other words, the quality of workmanship matters a lot. It is agreeable that there is a significant betterment in the final results of finishing the work of house painting. ZoopGo offers you service with well-trained painters in Noida who will be able to completely understand your unique customizations and adhere to it to deliver great services.
Color selection: Professional house paint workers are also capable of guiding you to make the right choices. This will lead to upgrading the overall appeal of the standards of the painting of your home. Experienced designers are available to help you chose the right colors that fit just right into your necessities and budgets.
Estimating a reasonable budget: Professional workers will not leave the project planning simply within an average budget without considering the real-time quantum of work. They will provide a beforehand visit the site to take measurements and discuss our other essentials. After that, they will give an accurate price for the job. But all this while, key factors like consideration of preparatory tasks such as priming, repairs, fixes, minute details, etc. will be conducted. Thus, if you choose to hire a professional instead of a local painter in your city, there are good chances of getting the job completed efficiently within a practical budget.
Experienced supervision: An experienced executive will be provided to you who will check the efficient progress of the whole work throughout. You can discuss out any issues or aspects of the house painting work during the job which will be undertaken. In this scheme, you can also choose to escalate matters to higher supervision if you feel anytime that the assigned service provider is not meeting your expectations precisely.
Warranty of service: You will be provided with appropriate service warranties. Any errors or damages that might occur will be attended to and covered up within a period of 6 months warranty.
Key highlights for wall painting work:
Repair and fixing of damaged areas using putty
Some of the main points that should be considered while house painting work are
Rubbing wall using sandpaper of different numbers
Sanding of the wall using good quality materials of various numbers
Leaving the painted areas 24 hours for base materials to dry
Starting work only after careful priming of the walls to be painted
Leaving the paint to dry after completing one coat of paint
After the walls have been dried, starting of the second coat of paint
Examining the walls for any possible requirements of paint to finish perfectly by touching up.
Guarantee Of Amazing Quality that Provides Satisfaction For Real
You can rely on ZoopGo to find the best wall painters who will complete the work with full responsibility for service. Good quality service also includes courteous behavior, pleasant and neat conduct during the work, and delivering eye-pleasing and lasting results.
Thus, with ZoopGo you can come to a one-stop solution about getting your home's wall painted perfectly. Wall painting is a permanent result, the quality and choices you make will accompany you for years if not for months.
Wall Painting Services FAQ
Can I stay inside my home while painting work?
In general, exposure to paint fumes after genuine and skilled professional paintwork does not cause any health risk to you or your family. If you can stay out of the room until the paint gets completely gets dried, you should not be exposed to nasty paint fumes.
What causes lap mark in dried paint?
Lap marks are created when a wet edge is not maintained while painting. It can also be caused when the paint is applied in a vertical motion only. Thus, it should be ensured that the paint has been spread on the wall in an "M" or "W" pattern. This helps spread the coating and create an even smooth film on the surface. Once this is over, you can go right back over that area and lightly roll from top to bottom to reduce a "shadowing" effect.
What are some great 3D wall painting patterns that can be applied on wall using paint?
Some of the excellent 3D wall painting patterns that can be applied on walls using paint are as –
Harlequin
Metallic
Stripes
Polka Dots
Color Wash
Stripe
Rag rolling
Sponging
Checkerboard
Scenery
Photos
What is 3D Wall Painting?
3D wall painting is an advanced technique that is liked and used by people for wall painting services in Noida and other cities across the globe because of its uniqueness. Not only it can be used as wall decoration, but it can also be used as unique photo booth for different events. 3D wall painting can not only be applied on wall, but also can be applied on floor. However, in terms of Commercial painting too 3D wall painting usually needs a bigger space, so that if someone takes photo with certain angle and distance, the creativity will look elegant.