Call the Painting services in Bangalore at the earliest through ZoopGo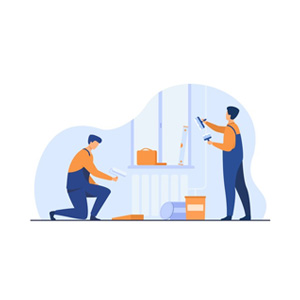 As soon as the festival's bells ring, our search for painting services begins. Well, undoubtedly, the festivals are surely the time of celebration and painting and renovating our houses. Well, painting a house is necessary from various points of view. You don't have to spend an ample amount of money on painting the entire house to make a bold statement; all you need to do is give your favourite wall a dramatic makeover. To create a stunning feature wall, you might choose rich colours instead of neutral tones like maroon, crimson, brown, dark green, orange, or House Painted deep blue. It can serve as the ideal backdrop for photo sessions at your home during festivals. Therefore, Painting Services in Bangalore could be an essential service.
Maintaining your property on a regular basis is also important to keep it from deteriorating; otherwise, the inside starts to seem drab and gloomy. Interior house painting also shields the home from mould infestation and other significant problems. Your property can look like it has just been built by applying a fresh coat of paint. It is also one of the least expensive ways to revitalise your house without breaking the bank. Therefore, if you're thinking about painting your house and are looking for a cost-effective painting guide, give a close read to this page as it will give you some additional money-saving tips when you paint your home.
The cost of Painting services in Bangalore
The cost of the home or office painting depends on the quality of the material which you buy. Depending on the quality, lustre, and any additional qualities you select, the price of the paint will change. Be aware of what qualities you want your wall paint to have because many people choose to purchase mould-resistant paint, which is more expensive to purchase than conventional paint. Calculate the area of the walls you plan to paint before you go paint shopping, and then use a house painting cost calculator to determine how much paint you would need and how much it would cost.
Is Primer necessary before the painting
It is not required to use a primer unless you want to go from a dark to a lighter colour or from a higher sheen to a lower sheen finish. Do not attempt to compromise on the quality of the paint; you will pay more in the long run. A high-quality paint should ideally not require you to spend money on primer in its formulation, so keep an eye out for such.
The Role of ZoopGo in Finding the Paint Services in Bangalore
Many individuals in metropolitan cities struggle to find the best Painting Services. However, ZoopGo can fill up the gap between you and the most reliable services in the city. It is usually advised to get in touch with a reputable painting company or expert painter. They will use specialised and automated tools to complete their work. Therefore, ZoopGo is exactly the same for you. You can connect with us to get the right guidance on painting services in Bangalore.
These 6 Pro Tips Will Help You in Hiring Painting Contractors in Bangalore
Did you know? Colors can alter your mood, for example, a mild palette makes your room appear large whereas the dark shades are tempting. So, choose the wall enamel wisely. You can try DIY but some do-it-yourselfer doesn't have enough knowledge about –How to dip a brush into a color bucket? This is how ZoopGo helps you in deciding on a professional painters contractor in Bangalore who leverages the quality of work. 
It took no time to show some love for your home. A sleek chic white splash or the combination of Viridian Green and Purple tells the corner story of your home. Before, you're going to finalize "Mr. Perfectionist" for ideal wall art; know which contractor is suitable and why.
How does Painting Contractor exactly work? 
A Painting contractor is responsible for the decoration of the interiors and exteriors of the building. 
Preparing the wall surfaces by washing and filling the cracks and the holes. 
Removing the old distemper and the base coat. 
Mixing the shades according to the vision of clients. 
They start with the base layer and systematically complete them. 
Applying decorative texture, patterns, or wallpaper in an adequate manner. 
Colour-Colour on the wall tells you the secret of your home!
Is it easy to find a professional painting contractor?  
Generally, the painting contractors are tending to be local. Some contractors only offer wall painting or some of them handle all of the plaster of Paris, textures, patterns, art, repair, or more.  
Pro-tips to deal with your local contractors:
You need to set a meeting: A face-to-face dealing is the best thing you can do. 
Allow them to inspect your place: Without overviewing the area it is impossible to decide on a particular budget and quality. 
Ask about the qualities of the products: You can also ask for the quality of the paint and the way they work. 
Creative minds: All you need is an artistic stroke on the wall. So, ask for their previous work samples. 
Punctual timing Matters a lot: completing the task in a specific timely manner matters a lot. 
Budget: Be clear about your budget according to the space and requirement. 
Since and experienced service providers are suitable for all types of wall art and interiors. The blend of warm or cool colors with subtle shades and textures provides a balanced atmosphere.
The Painting Services in Bangalore are ready to improve the way your home looks
Bangalore is a large urban area, home to some 11 million people. There are buildings of all types here, new high-rise ones and old villas. There are offices and other workplaces and all of them require Painting Services in Bangalore, at one time or another. These professionals are ready to assist homes and commercial areas of any kind. They work on new buildings and help you renovate. They will be more than useful when you move into a new property whether you have bought or rented it. They will help you choose the paint color from the catalog of different brands.  
Their perfect painting work will mesmerize you
Painting is something we get done for our premises, one a few years. Or that is what we hope for, until it starts to wear off. The Best Painting Services in Bangalore offer warranty on their work, i.e. they are confident of the painting services they are providing you. So, when you start to search for these experts you will be looking not just for someone who will work within your budget, but someone who will be able to do what you have in mind. We all have big plans for our premises and we are expecting nothing less than perfection. 
The charges depend on the choices you have made for painting
There are all types of customers in the market looking for painters. Some of them have no issues in spending anything to get what they want while others have tight budgets to work with. The Painting services in Bangalore cost are decided by the services you need from them. The cost of the painting material required as per your needs and the charges for the services of the painting professionals will decide the total charges. These professionals will tell you the total charges before they agree to work for you and they may request for advance payments to purchase paint supplies.  
These painting professionals are reliable and trustworthy
Most customers don't have any qualms about where the painters are based in the city, as long as they believe that they are the perfect choice for painting tasks at their home. Some though will prefer Painting services near me, for the simple reason they can easily meet them face to face and they can even connect with them later easily, if they face any problems. The best painters will have their portfolio with photos of their best and recent work. The tech savvy ones have an online presence to attract more business. There are some organizations that will allow you to book services of the painters online too.
The painting Contractors are skilled experts who just love to paint
The time to paint depends on the size of your premises and the number of painters at work. It also depends on the painting service that you have requested for. The painting Contractors in Bangalore take all safety measures for you and themselves. They all wear masks as they work and handle the painting materials with deft hands. They all work hygienically, which means that they will clean up the area they have worked in, once they are done. They will bring with them everything required to complete the painting work that you have hired them for. They will allow you to look at what they are doing, however they will request you to stay in other rooms as they work. 
Services Offered by the Professional Painting services in Bangalore
Exterior painting is paint work done on the exteriors of your premises. You will be selecting a paint that will be able to tolerate rough weather conditions. The scope of the work will vary according to the size of the building or where your apartment or office is in the building.
Interior painting is what the painters are hired most regularly for. Whether it's Diwali or any other reason, we want to see the best work where we spend a large part of our lives. You will have lots of choices for colors and all of your rooms will be painted.
Wall painting includes work done for one wall at a time. This type of painting requires high level of creativity as designs and patterns are painted on the wall. It is done quickly though you will have to stay away from the wall till the paint dries.
Whitewash painting is the cheapest way to paint your walls. The reason for this is the paint is cheap and it needs to be mixed with water before application. The amount of water you add decides the thickness of the coat.
Designs and patterns painting is increasingly popular with those who can afford it. Highly skilled painters are required for the job and they will show you a catalog from which you can choose the design or pattern you need.
Metal painting is done for your metal window bars and metal almirahs or any other metallic item.
Furniture painting requires painters with expertise in painting wood work.
Waterproofing work is done to protect your home from seepage and is mostly done on the roof. There are different methods including the use of waterproof chemicals.
How to Hire a Professional Painting services at ZoopGo?
We at ZoopGo are here to help you find the painting service providers you need. Just complete our small requirements form, selecting what you need and we will give you 4 best quotes, free of cost on your mobile in moments. The professionals listed for you will be according to the details you have provided. You can compare their details and select the one who you feel will be the best for you. 
Something you want to ask?
Still, unsure about hiring Painting Services in Bangalore? Try to explore our web portal! Personalize the list and contact them. Connect with us at 1800-12312-9655, or you can share your queries at [email protected]. Match a perfect shade for your home and show off it with your neighbors.