Hire Professional Painters in HSR Layout, Bangalore From ZoopGo to Transform Your Home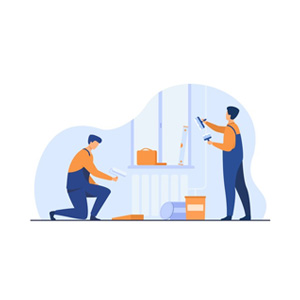 It's not easy to paint your house. Finding the best painting service providers in HSR Layout, Bangalore and removing the paint stains from the furniture and other appliances afterwards. It is certainly a faraway dream for someone, especially when time is a major constraint and there are deadlines to meet. If you are too preoccupied with your work and you are looking to hire the best painters in HSR Layout, then there's no need to worry. With their expertise and use of high-quality tools, experienced HSR Layout painters on ZoopGo's extensive list make the work of painting your home SIMPLE and STRESS-FREE. We assist you in connecting with reputable house painters who can provide quality services immediately in accordance with your needs.
How to Shortlist and Hire the Best Painters in HSR Layout From ZoopGo 
The two most significant characteristics of ZoopGo are QUALITY and RELIABILITY. These top two qualities makes it one of the top online platforms for customers looking for the experienced wall painters in HSR Layout who match their preferences. The painters will book your appointments for the desired date and time. The following are some notable advantages of hiring home painters in HSR Layout from ZoopGo:
Professional painters for your home, trained and qualified
Timely completion of the painting project
Set up a time and date for an appointment with the painters that work best for you.
Customized painting schedules 
Taking customer's needs and budget into consideration
Top quality paints and other materials used
Following completion of the painting work, cleaning the surface
Round the clock customer service support
How Can You Be Certain That You're Getting the Best Painting Services in HSR Layout? 
You must take the following things into mind in order to ensure that you hire the competent and skilled house painters in HSR Layout:  
Check Their Documents: One of the most important steps to remember while looking for the best home painters in HSR Layout is to make an appointment with the service providers. Set up a meeting or appointment with the three to four painters you have shortlisted. Without hesitation, let them know what you need. A reliable painting service provider will undoubtedly offer outstanding options according to your budget. They will also provide the necessary paperwork to support their legitimacy and the quality of their work.
Review Crucial Factors of the Job: When hiring painting services in HSR Layout, be sure to ask them how they remove paint stains from surfaces. Before starting the work, make sure all the items, such as the furniture or appliances, are well covered.
Assure That High-Quality Paints Are Used: You should ensure that the painters in HSR Layout utilize high-quality paints and other necessary supplies to complete their work efficiently. The paint that will be applied to the walls for painting must be durable and non-toxic.
When it comes to putting an end to your search for reputable and experienced home or office painters in HSR Layout, ZoopGo is your "Best Online Partner." Simply search through our huge database to find the best painters in Bangalore, offering their services in your area right now by calling on our toll free number 1800-12312-9655 or filling the form by browsing through ZoopGo