Book professional photographers in Vile Parle through ZoopGo for visually stunning imagery!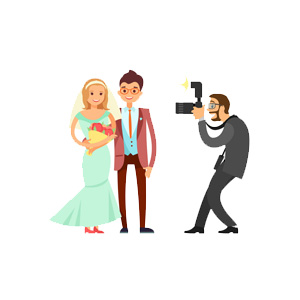 Photography is an intricate art that requires light & skilled artists to paint the canvas. So whether you want to freeze precious moments or build your brand persona, hiring professional photographers in Vile Parle through ZoopGo is paramount for exceptional quality visual results. ZoopGo is India's leading value-added aggregator with 10+ years of experience and 1500+ partners and has served 45000+ customers. So whether you want to connect with professional product photographers or top wedding photographers in Vile Parle, you can rely on ZoopGo for your photography needs.
3 Reasons for investing in professional photography
Perception of quality 
In today's time, something that is seen sells. Professional photography increases brand identity and makes your brand thrive in the virtual world. According to a report, 80% of online users rely on product images while buying a product. You can book the best product photographers in Vile Parle instantly through ZoopGo.
Versatility
According to a leading site report, high-quality, unique visual content is 40% more likely to get shared on social media. Professional photographers are versatile. They stay updated with the latest practices and techniques to deliver the best quality results.
Memories matters
Moments can't be recreated or reproduced again. But it can be frozen, relived, and cherished forever with professional photography. Whether you want to hire photographers for your ring ceremony or pre-wedding photographers in Vile Parle to capture the pre-wedding phase, visit ZoopGo.
5 Important things to ask for when you hire professional photographers -
What is your style? Can I see a sample of your past work?
Can I get a couple of references?
Can I see the contract before booking you?
Do you have insurance?
Do you offer packages? If yes, then which package is right for my event?
5 Tips to get your body ready for the professional photoshoot
Get into the photo-ready shape.
Quit Alcohol and smoke & drink a lot of water to keep yourself dehydrated.
Drink healthy food. Incorporate fruits, salad, and coconut water into your diet for glowing skin.
Start using a good quality serum and night face mask at least one month before your shoot. 
Get plenty of sleep.
3 Reasons for using ZoopGo for hiring professional photographers
High-quality photography - We have been partnered with verified and licensed photographers. Hence, you can rest assured about the high-standard photography services. Whether you want to hire wedding photographers or corporate photographers in Vile Parle, you can choose the best with us.
Reasonable rates - Professional photography is expensive. But with us, you can book the best photography services in Vile Parle at the best possible prices. So, if you want to put your money in the right place and obtain the best result, you must choose us.
Instant solution - We understand the worth of your time! Thus, we help you find your ideal photography partner instantly with the click of a button. Moreover, you can choose us to connect with the best fashion photographers in Vile Parle.
Services we offer -
Verified service providers
Instant quotes and bookings
Dashboard for actionable insights
24/7 customer support
Short notice bookings
We'd be more than willing to assist! For further queries call us on our toll-free number 1800-102-9655.