Connect with the top photographers in Dombivli through ZoopGo to make your memories shine forever!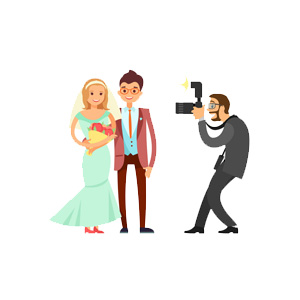 Photography is a creative art & for professional photographers, it's a love affair with life. A professional photographer doesn't shoot what it looks like, but he shoots what it feels like. They define and convey the essence of a moment beautifully through their art. Therefore, for special moments, connecting with top-notch photographers in Dombivli through ZoopGo is imperative. ZoopGo is India's top-rated portal, with 1500+ service providers and 45000+ happy customers. It has been fulfilling customers' photography needs for 10+ years; strives to connect you with the best photographers to make your moments eternal!
3 main advantages of hiring professional photographers in Dombivli
It's not always about the camera - Professionals have the vision. They evoke genuine emotional reactions and capture the essence of a moment and preserve it forever in time.
Moments can't be recreated - You can buy things, but not moments! Therefore, you should invest in professional photography. Professional photographers seize a moment forever in time, let you live & cherish them.
High-quality, vivid memories - A professional photographer has the gears to create quality photographs. They add a poetic touch to pictures to make memories vivid. You can hire fashion photographers in Dombivli through our platform as well.
3 crucial reasons for hiring professional photographers in Dombivli through us -
Quality result - Finding a photographer is not a difficult task in the digital world, but finding a pro is surely one. Professional photographers listed with us are pre-verified and credible, and you can rest assured about the quality end result.
Instant solution - In a fast-paced era, everyone wants to get quality results instantly & we understand just that. Our platform enables our customers to get an instant quality result under one roof. We connect you with the best pre-wedding and wedding photographers in Dombivli.
Cost-effective solution - Photography is expensive yet crucial. But with us, you can rest assured about the prices. We connect you with the best photographers & you don't have to break your bank either. Moreover, the best maternity photographers in Dombivli are found only on ZoopGo, so if you are seeking one, visit us today.
Services we offer -
Verified and assured services
Instant quotes and bookings
Dashboard to get actionable insights
High-quality photography services at reasonable prices
You are just 3 steps away from your perfect photography partner in Dombivli -
Step #1 - List your requirements and details with us. Suppose you are looking for professional birthday party photographers in Mumbai; fill the form with the exact information. Our team will check your queries & will send you First Four Free Quotes shortly.
Step #2 - Check and compare quotes based on photographers' reviews, ratings, and services. Shortlist photographers that best fit your budget.
Step #3 - Call & book. 
Happy to assist!
If you need any information or assistance, don't hesitate to reach out to us. Feel free to call us on 1800-102-9655 (toll-free).