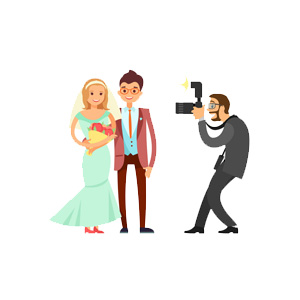 Hire top-rated photographers in Bandra through ZoopGo & bring your ideas to life!
A picture is worth a thousand words if captured well. To bring photographs to life, hiring well-regarded photographers in Bandra through ZoopGo is imperative. ZoopGo is a leading internet platform with 1500+ service providers, 45000+ customers have been providing home services for over ten years. It endeavours to connect you with prominent photographers to preserve your beautiful past in time.
5 reasons to hire professional photographers in Bandra -
Preserve a moment in time - Every moment of your special day is unique.  It can never be repeated at any other point in life. Professional photographers in Bandra understand the worth of your precious moments. They strive their best to capture emotions in a photo session and provide you with timeless memories and let you cherish them for a lifetime.
Help you explore your creative side - A photographer will help you to explore new dimensions of creativity. They explore new ideas and methods, suggest poses to you and help you show a version of yourself that you have never seen before or think before.
Carpe diem - Life is a moment, and so you should appreciate the power and charm of now and cherish every moment, and preserve it, whenever you can. Professional photographers understand the worth of your important day, and so they leave no stone unturned to pluck the day with their photography skills. 
The artist's touch - Professional photographers facilitate the creation of works of art. They have artistic training, knowledge of equipment and gear, and experience. They go above and beyond to deliver the finest-quality photographs possible. To connect with quality product photographers in Bandra, you can use ZoopGo.
Let you enjoy the day without any worries - It is a special day for you and your loved ones. And, so everyone should enjoy it rather than being worried about who will click the photographs. By allocating the job to professionals, you can leave the worry and let everyone get captured.
5 reasons to hire professional photographers in Bandra through us - 
Quality work - Professional photographers listed with us are certified, assured, and front players of the photography world. They will go over and beyond to provide the best-in-class result. Furthermore, you can get in touch with well-regarded wedding photographers in sector Bandra through us.
24/7 support - Our dedicated team is available 24/7 to solve your queries and concerns anytime.
Free quotes - You can avail free quotes from the top 4 photographers just by listing your queries on the online form available on our portal in a brief time.  You can use our platform to connect with well-regarded fashion photographers in Bandra.
Actionable insights - You can check reviews about a service provider through our dashboard feature. It will help you to weigh the pros and cons of a specific service provider and decide accordingly. You can hire a team of professional photographers through us for a baby photoshoot in Bandra.
Best service at the best possible price - Our platform empowers our customers to speed up the process and get in touch with the best service provider at the best possible price.
You can reach out to us through our toll-free number - 1800-12312-9655 for any other query or concern.