Hire the best wedding photographers in Borivali, Mumbai, through ZoopGo for fond memories!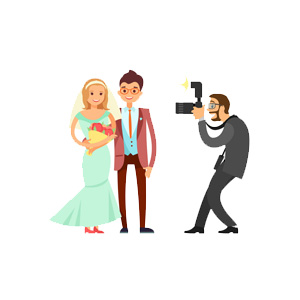 Matches are made in heaven and celebrated on earth! To make your eternal bond of togetherness a love saga to be remembered for ages, hiring the best wedding photographers in Borivali, Mumbai, through ZoopGo is imperative so the first chapter of your forever will be etched on your memory forever. Photographers associated with ZoopGo are pre-verified, licensed, and credible. Hence, you can rest assured your wedding will be filmed and edited to perfection.
5+ Hottest trends in wedding photography -
Pre-wedding shoot - In India, pre-wedding shoots are more than just a trend. They are special because couples get the freedom to capture their pre-wedding phase the way they desire without the pressure of being under the gaze of their family members and wedding guests, with the help of pre-wedding photographers in Borivali. 
5+ Pre-wedding shoot poses
1. Oh-So-Romantic!
2. Drenched in Love!
3. A Bit of Mush Against a Lit Backdrop!
4. Forehead Kisses are the Best
5. Classic clicks
6. Piggyback rides!
7. Fireworks to sparkle the picture
8. Forthy Foam!
Photoshoot with props - Conventional props, such as fairy lights, confetti, smoking bobs, make a photoshoot creative, help people who struggle with posing, enhance the creativity for the people who are born posers, and escalate the fun.
Daring with documentary - Rather than the traditional posed photos, couples want to tell the authentic story through their clicks for meaningful, innocent and genuine memories. Through this laid-back style of photography, a photographer endeavors to capture the raw emotions, enabling couples to get the best of both worlds in their wedding album. Moreover, couples can book maternity photographers in Borivali through ZoopGo.
Drone Photography - Wedding photographers have begun using drones progressively to get wide-angle shots and capture the essence of photography for awe-inspiring aerial shots and magical poses, which is not possible with the traditional way.
Capturing love - Irrespective of the size and type of a wedding, every couple wishes to cherish their memories and get jaw-dropping reactions from others. Professional wedding photographers are evolving their style constantly. They are making sure that couples have spectacular memories from the day. Apart from wedding photographers, you can hire baby photographers in Borivali through ZoopGo as well.
Detailed Photography - Nowadays, couples have become very particular about every little detail about their wedding, from dining to decor settings and stage, etc. Similarly, they expect their photographers to capture every minor, unnoticed detail, like ambience, wedding jewels, flowers, etc. Besides your festive event, you can hire fashion photographers in Borivali to enhance your portfolio and escalate your career graph.
Why ZoopGo?
Being India's one of the highest-rated portals, ZoopGo is a one-stop-shop with 2000+ verified and licensed service partners and has served 84000+ customers so far. From logistics to garage, education to health & wellness, you can avail multiple services through the portal. We, ZoopGo, enlist thousands of photography partners in Mumbai, including professional Corporate Photographers in Borivali, intending to make your memories picturesque and priceless.
Exclusive offerings
Verified, registered, and licensed partners
Simple, swift, & cost-effective
For further queries, call us on 1800-12312-9655 (Toll-free).