Best Photographers Near Me in Dadar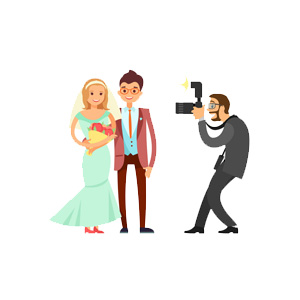 There's a famous saying, 'Don't judge a book by its cover.' But, in the virtual world, the first impression is what matters. Photography is the best tool to use a long-lasting impression as well as memories. So, whether you want to build your brand persona or inspiring memories, hiring prominent photographers in Dadar through ZoopGo is a must. ZoopGo, with 10+ years of experience in the home service industry, 45000+ service providers, is India's top-rated portal that serves 1500+ customers daily.
Why should you hire photographers in Dadar for brand building?
Photography is a powerful tool for getting better results from your content. According to a leading website's report, 80% of users are likely to engage with content if it is paired with an image. Plus, 64% of users are likely to remember what they read or heard. Professional photographers in Dadar, with their remarkable photography, provide you with high-quality results and help you -
To establish your brand's identity.
To grab the attention of your target audience.
To give an authentic visual representation of your brand.
To give your business a competitive edge.
Why should you hire photographers in Dadar for your event?
Things end, memories stay, which warm you up from inside, every time you see them. And if memories matter to you, it is worth spending money on professional photography to document your special event. Hiring professional photographers can benefit you in more ways than one. Here are 3  important ones:
A pro knows what they are doing - Hiring professional photographers puts you at ease, as they know what they are doing. They, with their excellent clicks, make your memories worth cherishing. Moreover, you can hire wedding photographers in Dadar through ZoopGo & make your memories ever-lasting.
Worry less = celebrate more - Professional photographers don't need any hand-holding. They are disciplined and organized. Therefore, you don't need to worry about your special day's memories. They have got your back. They will capture your special event well without a constant reminder.
Make your precious day count - Your special moments have no do-overs. By hiring professional photographers, you will have something with you that can stay with you forever. Moreover, you can use ZoopGo to connect with verified and licensed pre-wedding photographers in Dadar.
Why should you choose us to hire photographers in Dadar?
Photography is expensive. Thus, you can't trust any random people for it. We are India's leading platform and have been playing the role of your perfect photography matchmaker for years now. Whether you are looking for fashion photographers or maternity photographers in Dadar, you can bank upon us for your photography needs. Photographers listed on our portal are pre-verified and the front players of the photography world. They assure you get the best of the best services.
Services we offer -
Verified and licensed service providers
Free quotes from the top four service providers
24/7 customer care support
Dashboard feature for actionable insights
Happy to help! Feel free to reach out to us for any further queries at our toll-free number 1800-12312-9655.