Let's Choose the Top & Verified Photographers in Thane via ZoopGo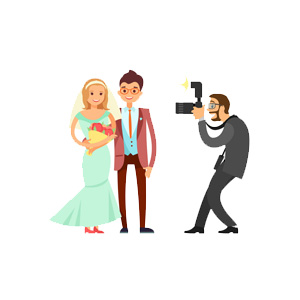 Photographers give true meaning to our lovely events by clicking spellbinding photos that remind us of the events. These beautifully captured images make us look mesmerizing and act as a testament that we can save for our good times to share with our forthcoming generations. The words of Destin Spark are enough to let us know the importance of pictures. "Photography is a Story I fail to put in Words."
Therefore, the folks always want to search for the Top Photographers in Thane to make their picture frames look fascinating. Choosing the handpicked photographers that can craft our events through mesmerizing pictures is an arduous task that seems easy on the surface. But practically, hunting for the services of the top photographers requires the skills of patience and hardcore research that takes a lot of time.
Let's Know the Kinds of Photographers in Thane with Whom We Can Easily Connect:
Picking the best photographers is a dream of almost every person as every person in his or her entire lifetime comes across different stops where they want the advocacy of amazing photographers. Here are some notable types of Photographers you can easily choose in Thane:
Wedding Photographers: Tying a knot is a dream of many people and they want the best coverage when they are breaking the celibacy and entering their nuptial life. Therefore, the folks want to pick the services of the Best Wedding Photographers in Thane who can create great shots for their photo album.
Birthday Party Photographers: Different folks want to pick great quality Photographers when organizing a birthday bash for their kids, their spouse, and other relatives. Therefore, we can see a great surge in Birthday Party Photographers in Thane.
Corporate Photographers: Big corporate houses are well-known for conducting big events, organizing these corporate affairs, and grab more deals from their competitors. Therefore, seeking the services of the Top Corporate Photographers in Thane is quite a common scenario for all of us.
What are the Sources for Connecting the Top Photographers in Thane?
The modern world opens up a plethora of options that can help us in picking the best choices for photographers in Thane. Take a Look:
Screen Out the Choices on the Internet: Google your queries by typing the keywords Top photographers in Mumbai, Thane you will come across different options on the first search engine result page. Pick the top 5 choices with their contact number so that you can easily figure out related information.
Ask for References: Pick great quality references from your friends, family, and neighbor who can help you pick the best choices regarding choosing the best quality photographers.
Connect with the Top Online Portals: You can scout the top photographers with the help of the top online portals such as ZoopGo, as this platform takes pride in connecting you with the best photographers.
What are the Steps Involved in picking the Top-Rated Photographers in Thane via ZoopGo?
Log on to www.ZoopGo.com.
Now, click the tab of photographers on the home page.
Now, you can see a rectangular window in the top right corner of the page, where you can choose amongst wedding photographers, maternity photographers, birthday and product catalogue photographers, personal party photographers, etc.
In the next step, you can also select candid, traditional, portrait, and other types of photography styles as you want.
Now, enter the location and date for which you want to book the photographers through our esteemed platform.
Mention your name, and contact number to connect with the top photographers in Thane via ZoopGo. You can enjoy four free-of-cost quotations via us.
We connect you with verified service providers only after viewing their original documents such as Pan Card, Aadhar Card, and Certificate of Incorporation.
You can also choose to compare the reviews and rating facilities through our dashboard facility.
How to Contact ZoopGo to Connect with the Top Photographers in Thane?
You can dial our Toll-free number 1800-12312-9655 or else shoot us an email us at [email protected].