The Photographers in Kandivali and the range of services they provide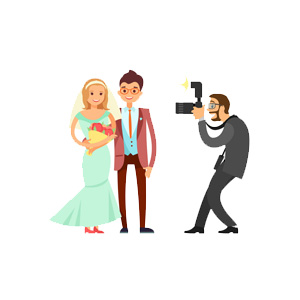 CKandivali, in North Mumbai, has the same high-rise buildings as in any affluent area of the city. It has all modern amenities including schools and hospitals. Photographers in Kandivali have studios in all localities of this area serving the citizens with their various photography needs. Whether it's your wedding, your birthday, a corporate event they are always here to help. Most of us have used these local studios once in a while. But if you find their services limited i.e. you want something different you can always search online. The possibilities here are limitless but so can be the charges. If the photographers are based far away from your location their transport charges may get added to your bill.
Why would you become a wedding photographer?
As in all services, there are some specialists and the rest are jack of all trades. It's not meant to be an insult as if you are multi-talented and want to learn or be part of different settings, that is well and good. There are others who have spent some time in the business have realized that they do better at certain functions. The Wedding Photographers in Kandivali fall in the second category. They usually go to these functions with an assistant who is responsible for following their orders and arranging the lights. They are backed by a photo-editing expert who adds the final touches to your images before you store them in your album. A wedding is once in a lifetime affair for most and you want everything to be perfect. Perfection is something all photographers crave for no matter what the occasion is.
You can choose yourself or ask the photographer for suggestions
Every couple likes to spend some quality time with each other before their wedding. What better way to do this than a pre-wedding photoshoot.
You can select the venue yourself or the Pre Wedding Photographers in Kandivali will suggest some they think will fit your requirements. The venue usually is a tourist spot or an empty public area allowing the two of them to be photographed without interruption.
The couple has the option of choosing their dress or again the photographer can make suggestions.
Sometimes there may be fun activities to do at these locations and the photographer will capture both of you enjoying them. If you need the services of videographers, that can be arranged too.
At some of the wedding venues, the screens display video of what took place at the pre-wedding photoshoot venue. This keeps the guests busy and the couple smiling.
Why fashion photography is such fun?
Fashion shows are a common occurrence in Mumbai, the main base of Bollywood. Every Fashion Photographers in Kandivali will jump on the invitation for these.
Some fashion magazines have their own fashion photographers and they accept entries from outside photographers too, if they find their work interesting.
Most of them are well connected with models who they can arrange at short notices. They also assist budding models with their portfolios.
We, ZoopGo, are here to assist you with your search for Photographers in Mumbai. Just give us your requirements and your contact details. In moments 4 best quotes, free of cost will be on your mobile. You can also connect with us at 1800-12312-9655 in case you want to discuss anything.;