Book the best photographers in South Extension through ZoopGo for unforgettable memories!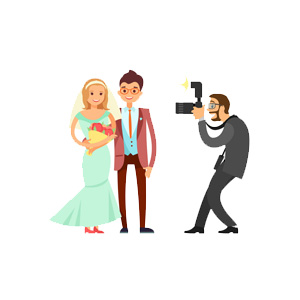 A picture, if clicked excellently, tells a story better than words. Hence, if you have a unique story to tell, you must book professional photographers in South Extension, Delhi, through ZoopGo to capture moments in all their flavor and fancies! ZoopGo is the highest-rated value-aggregation platform in India, with 1500+ verified and licensed partners. It has been connecting customers with their perfect photography match for 10+ years. It has fulfilled 45000+ customers' home-services needs thus far!
Why professional photographers?
Photography is more accessible today than ever because of smartphones. Smartphones' cameras have made it possible for almost everyone to click photographs anytime, anywhere. However, some unique moments could only be captured by a pro. Be the purpose is festive or professional, professionals will translate it into a visual language people admire. You can book certified and licensed corporate photographers in South Extension through our portal. 
3 Major reasons for opting for professional photographers over a DIY project
Expertise and experience - Professional photographers have skilled eyes. Plus, they bring years of training and experience to your session. Their knowledge about lighting, cameras, gears, set designing, production, and visual communication is unmatchable. Moreover, you can book well-regarded pre-wedding photographers in South Extension to capture the beautiful phase.
Photography is beyond the camera - You might click awesome pictures through your smartphone camera. If you want the entire experience to go along, you should invest in professional photography. Professionals capture the very essence of the moment and provide you with impressive, one-of-a-kind photography results.
Post-production skills - You may be good at capturing photographs, but professionals do a ton of work to polish taken images after the session. They have the latest software, calibrated equipment, and unique skills to edit your photos and turn every shot into a masterpiece.
Why ZoopGo
ZoopGo is the top-rated value-aggregation portal in India and a bonafide rarity in the internet portal world. This unique platform allows customers to cut through the internet chaos and book the best professionals in the photography industry at reasonable prices, in the least amount of time, from anywhere with a click of a button. Moreover, the best event photographers in South Extension can be booked through our platform.
Important reasons for booking professional photographers through us:
Certified photography partners - We have been partnered with certified and licensed photographers. Hence, you can expect high-resolution, impressive photographs by booking a pro through us.
Instant quotes and booking - You can get the First Free Four Quotes through our portal just by enlisting your queries through us. The best birthday party photographers in South Extension can be booked through our portal.
Dashboard for actionable insights - You can check ratings and reviews of a service provider's business through our Dashboard feature and make the final call accordingly.
Dedicated 24/7 customer support - You can reach out to us at any point in time for any query or assistance. Our dedicated customer service team will solve your queries 24/7 and in real-time.
Professional photography services in Delhi are just 3 steps away!
Step #1 - List your photography needs with us to get the First Four Free Quotes. Moreover, you can book the best fashion photographers in South Extension through us for visually stunning communication and help your brand to grow and thrive.
Step #2 - Check and compare quotes.
Step #3 - Call & book!
If you are looking for 'Best photographers in South Extension near me,' you must reach out to us. We will connect you with your ideal photography match quickly. For further queries call us on our toll-free number 1800-12312-9655. Moreover, you can download our application from Google Play Store and book our services anytime, from anywhere, just with a few finger clicks.