What makes the Photographers in Rajouri Garden stand out?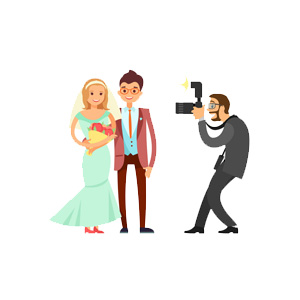 Photography is similar to painting, but while you have hours to paint something from your imagination or something in front of you, the photographers have minutes and some cases seconds to give their best. Though the results will be more accurate and real in terms of what has happened. And it's not the magic that the Pope will ban because we all love it. Photographers in Rajouri Garden are in demand not because people need them, but because of their high-quality creative services. They serve on different occasions and for different purposes.
What are the risks involved in the photography business?
There are some photographers who prefer to work on one type of occasion only, like the Wedding Photographers in Rajouri Garden. If you want to be one of them you must keep yourself prepared to work with crowds, deafening sounds and you will have to keep standing for hours. They are usually hired separately by the groom's and bride's sides. Solo photos after they are fully dressed and ready are in trend nowadays. For some of them, this party is fun and games while others remain serious. You as a photographer will have to adapt to the situations.
How do the photographers capture memories for the future?
There are a number of pregnant ladies out there, if not all of them who want to be pictured in their condition, to see what they look like and to store these memories for the future. Maternity Photographers in Rajouri Garden are here to help such ladies. The safety of the lady is not only a priority for her but the photographer too. They usually suggest the venue and the dresses for these photoshoots.
How experienced photographers come to the party?
Who doesn't have photos for his Birthday and personal party? Everyone does. You have the option of getting someone in your family for clicking the photos or you can hire a professional photographer. This will free up your family member and you can be assured of the quality of photographers!! Oops, we don't want to embarrass or insult anyone. These photographers will capture everything picked out by the event planner for your birthday, from decorations to dinner.
How the travelling photographer minds his business?
This area does not have a corporate culture but the Corporate event Photographers in Rajouri Garden are hired by the offices in the adjoining areas.
Like all photographers, they don't have issues in travelling around and they will never let the opportunity of working with any businesses slip away.
The speeches, the chief guest, the cocktail and dinner party are all captured with the company staff in their formal dresses.
How the photographers will help you sell products?
There are businesses out there like saree shops that have a large number of products and they are not displayed, so the customer doesn't know if these are available. Product Catalogue Photographers in Rajouri Garden will help you create a catalogue of all of your products that potential buyers can see and request for. This will not be done for standard products but products that are difficult to describe.
Why is it important to book photographers in advance?
There are occasions we have not covered yet like kitty parties, retirement parties, religious parties, let's call these special occasions. Special occasion Photographers in Rajouri Garden are available for these functions. You must book them in advance so that they will be available for your special day.
How the suggestions of experienced photographers can help your career?
There are models out there who need the Fashion Portfolio Photographers in Rajouri Garden.
These photographers capture these models in different dresses and they suggest what type of attire would look nice in these models.
Most fashion houses or e-commerce sites hire models for their photography requirements and these portfolios will assist them in selecting the models.
The photographers will always give something extra
How many of us remember what we looked like when we were very young? Very few of us will be able to tell that unless they have photos to remind them. The Baby photoshoot usually takes place at your residence. They may even suggest the toys and the cots, pillows with which the baby can be photographed.
How do the photographers create new opportunities for you?
Most couples, especially those who have agreed to arranged marriages need formal opportunity to spend some time together before their wedding. Pre wedding Photographers in Rajouri Garden will be able to assist such couples. These photoshoots take place at remote locations and they make suggestions about the attire. Though for both of these options the final say is of the couple.
We at ZoopGo are here to assist you in the search for service providers including photographers in Delhi. No matter what the occasion is or the purpose you need the photos for, we will find the right photographers. All you need to do is fill the requirements form with what you need and your contact details. In moments 4 best quotes, free of cost will be on your mobile. You can also connect with us at 1800-12312-9655 for pre-booking and post-booking requirements.
FAQs
How will ZoopGo assist me with Photographers in Rajouri Garden?
We are here to speed up your searches for photographers by providing quotes as the first step and not the last. We will fetch from our database the photographers matching your exact requirements.
What are the charges of Photographers in Rajouri Garden?
The charges vary according to the time the photographer will have to invest. Also the number of photos required by you is another factor in cost calculation.
What is the quality of services of the Photographers in Rajouri Garden?
All service providers listed by us are registered with us. We have verified their commercial details. You must read the customer reviews about them on our portal.