Book the best photographers in Pushp Vihar through ZoopGo & capture moments in all their flavour and fancies!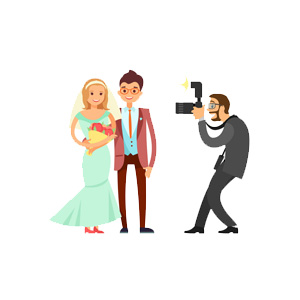 There would be thousands of photographs in your smartphone's gallery. But how many clicks you are pretty proud of, where the light and the pose was just right? You can count them on your fingers, isn't it?! Therefore, you must book professional photographers in Pushp Vihar through ZoopGo, India's most-trusted value-added aggregation portal. Professionals will capture the clicks that matter most to you in all their flavours and fancies and let you savour those memories!
Why professional photographers?
Professional photographers have the know-how to produce great photos day in and day out in different environments and circumstances. They have a hundred creative ideas and tricks up their sleeves for taking awe-inspiring and excellent shots. They all honed through experiences. Where product photographers in Pushp Vihar help your brand approach the market in a meaningful and innovative way, wedding photographers in Pushp Vihar lets you relive and cherish those moments for a lifetime.
Top 4 advantages of hiring professional photographers:
Professional experience matters!
Photography is more than just pressing the button. With their enriched experience and skills, they add a poetic touch to photographs. You can book birthday party photographers in Pushp Vihar through our portal.
Moments fade, memories last forever!
In the end, all you have is photographs. If you want your treasured moments to be captured beautifully and last a lifetime, you must book professional photography services.
Attention to detail!
Professionals are committed to every detail to make memories shine. They not only capture every shot but ensure your memories will be up to par. They pay attention to detail and make every photograph look outstanding. Plus, they'll fix your hair, your dress, suggest poses, etc., to make sure every frame looks flawless.
High-quality photographs!
You can walk away with super quality photographs every time just by hiring a pro. They are skilled at getting the most out of an image. They provide high-quality pictures for your special moments, portfolio, or products so that you can cherish your moment, take your job search or business to the next level!
Why ZoopGo?
ZoopGo is the highest-rated internet portal in India, with 2000+ verified partners. It has been connecting customers with their ideal photography match for 10+ years now and has fulfilled 78500+ customers' home-services needs so far. A customer can book the desired photography services in Delhi at better rates with a few clicks. Moreover, book the best maternity photographers in Pushp Vihar through us.
Offerings that set us apart -
Verified, registered, and licensed partners
Quick quotes
Excellent 24/7 customer support
Dashboard for actionable insights
Responsiveness and flexibility
Transparent, fast, and cost-effective solution
Book professional photography services in just THREE steps!
Step #1 - Share your requirements to receive the First Four Free Quotes.
Step #2 - Check and compare quotes.
Step #3 - Call & book!
For further queries call us on our toll-free number 1800-12312-9655. You can also download our application from Google Play Store to book services anytime, anywhere, at ease.