Book the best photographers in Anand Vihar through ZoopGo for priceless memories!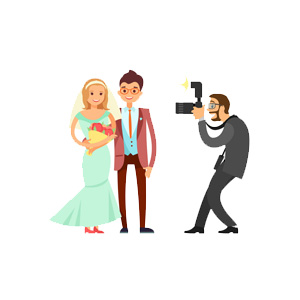 Memories are a timeless treasure; they live forever! Whether it's ordinary, joyful, or life achievement, moments shaped our days. Those moments that you celebrate with people closest to you are precious. And sometimes, these moments pass you by, and that's why we, ZoopGo, are here. We connect you with the best photographers in Anand Vihar, Delhi, who strive to capture every moment, from the little ones to the big ones, with utmost perfection and make your memories shine.
Why professional photography services?
Photography is not about just snapping photos. It's an intricate art that demands attention, patience, and experience to preserve a moment forever in time to cherish and behold forever, and professional photographers just understand that. They capture the essence of a moment to tell your story in a unique way because they know when words fail, pictures speak! We have enlisted some of the best and most well-regarded wedding photographers in Anand Vihar.
Moreover, professional photographers know that light, posing, and other elements are essential for creating a true masterpiece. They make sure the artwork reflects your personality and style. Their approach is client-oriented. They ensure to provide you with memories that are truly unique and matchless. Plus, they make your experience comfortable and fun before, during, and after the photoshoot session. You can hire professional pre-wedding photographers in Anand Vihar, Delhi, through us for capturing moments of togetherness of your pre-wedding phase excellently.
12 Wedding photography trends -
Editorial style portraits
Candid photography
Traditional wedding photography
Artistic wedding photography
Natural wedding photography
Documentary wedding photography
Portrait wedding photography
Vintage style wedding photography
Black & white wedding Photography
Film wedding photography
Illustrative wedding photography
Aerial wedding photography
Why ZoopGo?
ZoopGo is India's most-trusted and high-rated web aggregator platform that offers multiple services, like logistics, garage, education, health & wellness, along with complete home service solutions under one roof. It enlists thousands of photography partners, including professional maternity photographers in Anand Vihar, Delhi, to consolidate your search by making it easy and precise.
We have enlisted 2000+ service partners in our platform and have served 80500+ customers so far. Our service partners are pre-verified, licensed, reliable with a rich photography experience under their belt. We enlist service providers on our platform after screening their legitimate records. Hence, you can rest assured of priceless memories. You can run a thorough price comparison among the photographers, including professional birthday party photographers in Anand Vihar. You can compare their services based on ratings, reviews, and offerings. Plus, you can choose the one best suits your needs and budget.
Find your best photography match with just THREE easy steps -
Step #1 - Share your requirements with us to get the First Four Free Quotes.
Step #2 - Check and compare quotes.
Step #3 - Call & book!
Our offerings
Verified, registered, and licensed partners
Quick quotes
24/7 on-demand customer support
Dashboard for actionable insights
Transparent and cost-effective solution
Looking for 'Professional photographers in Delhi Near me?' Reach out to us on 1800-12312-9655 (Toll-free).