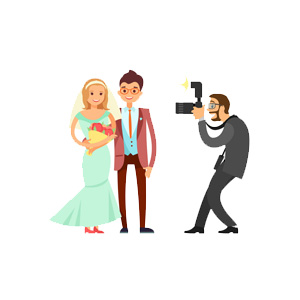 Hire the best photographers in Dwarka  through ZoopGo & give your photographs a poetic touch! 
Photography: the closest relative of painting is a beautiful art form, which uses visual elements in lieu of words to represent reality. It's a unique way to create beautiful poetry with light and lenses. Professional photographers, with their creativity and technology, makes every frame more artistic and captivating.
A professional artist (photographer) makes poetry out of people and preserves their past & action forever in time. ZoopGo is a leading online platform with 10+ years of experience, 45000+ happy customers, and 1500+ service providers. It strives to connect the best photographers in Dwarka , Delhi, with people looking for professional photography services. 
7 questions you should ask potential photographers in Dwarka before hiring them - 
If you shortlisted a photographer/team whose works appeal and inspire you, you must throw some questions at them to check their worth. 
How long have you been in the profession? Ask them about their specific genre. 
(Suppose if you are dealing with wedding photographers in Dwarka , you are question should be like how long have you working as a professional wedding photographer and how would you describe your style?)
(1) How much do you charge? Is your price negotiable?


(2) What do your packages include? 


(3) When will I receive the finished result? 


(4) Will you be available on the fixed date, or will you cover other events as well? 


(5) Will you provide me with the contract of services? 


(6)Will you document everything in black and white? 
5 reasons to choose us to choose professional photographers in Dwarka - 
(1) Because you deserve quality services - Your memory is precious. And, photographers listed with us understand just that. Also, they are verified and assured. So, you can rest assured about the finished result. Moreover, you can choose us to connect with affordable birthday party photographers in Dwarka . 
(2) Because your money is valuable - Photography is expensive. However, you can save your hard-earned money if you choose us to hire an accomplished photographer. We connect you with top-notch photographers at the best possible prices. Besides festive events, you can connect with the best fashion photographers in Dwarka through us as well. 
(3) Because your time is precious - Finding a pro is time-consuming. It requires attention and effort. However, you can get quotes from top photographers in Dwarka that best fits your photography needs and fall within your budget just by filling the form mentioned in our portal in a brief period. Plus, you can read reviews about a photographer through our Dashboard feature. 
(4) Because you deserve the best memories - Your all effort will go in vain if you fail to hire an expert photographer. So, if you don't want to compromise with your precious past, choose us to hire acclaimed photographers in Dwarka . 
(5) Because we care - Our customers are our priority. Therefore, we provide them round the clock assistance and make sure to resolve their all queries. 
For any further assistance, please call us on our toll-free number - 1800-12312-9655.