The variety of Photographers in Preet Vihar and their quality services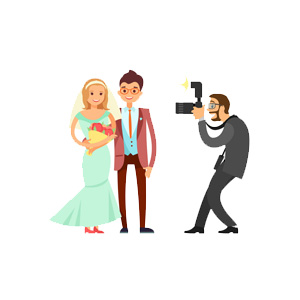 There are plenty of amateur photographers out there, thanks to smartphones, clicking and uploading their photos online. However, there are events and purposes for which you will require professional photographers. For instance, you want someone who has mastered photography for your wedding and birthday parties. They are required by budding models who want a portfolio for themselves. Preet Vihar is a posh area in east Delhi with excellent connectivity through metro and roads. The Photographers in Preet Vihar are always in demand for one event or another. Parties happen often here and residents of nearby colonies too invite these photographers.
Clicking at your Important Events
There are a number of banquet halls in and around Preet Vihar and wedding parties are held often here. Wedding photographers in Delhi, are always busy and need to be booked well in advance to ensure their availability. These experts know the routine, whether they have been hired by the groom's family or bride's family. Every moment worth capturing is clicked whether it be the arrival of the groom and bride or the garland ceremony. They know what they are being paid for and are always up to the task assigned to them.
Different situations put different demands on the photographers
Some couples require pre-wedding photographers too. The pre-wedding photoshoots are different from engagement photoshoots as they usually show the couple enjoying each other's company in a secluded environment like a tourist resort or parks or lakes and any other place of your choice. The photos clicked here can be used on invitation cards and in slideshows at the wedding reception.
More events that have moments worth clicking
There are other events like birthdays when these photographers may be invited to. Birthday party photographers are called in to click photos of memorable moments at your birthday. Everyone likes to remember what happened on their last birthday party and they are a must at the first birthday of every young child. Everyone has come to enjoy and celebrate the party and there will be plenty of opportunities for the photographers to click away.
What the fashion photographers do?
There are plenty of boutiques around Preet Vihar and they all need the services of fashion photographers. These boutiques and other fashion houses want to promote their products to increase sales. These photographers click photos of these items with and without models. The photos should give the viewer an idea of what the dress would look like on them. These fashion photographers are also invited to all fashion events across the city.
We at ZoopGo help you in your search for these photographers in Preet Vihar or at any other location. You just need to mention the occasion for the photoshoot, the type of photos you need, how soon you will need them with the date and location. Within a few moments 4 best quotes, free of cost will be on your mobile. You can compare the services listed with their prices and select one according to your aesthetic, monetary and other requirements.