Book prominent photographers in Connaught Place through ZoopGo & create everlasting memories!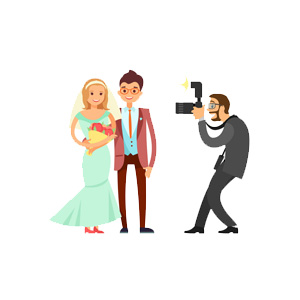 We take pictures almost every day. Our phone storage is almost full of them but do we cherish all of them? Owning a high-quality camera and clicking artistic photographs are two different things. Photography demands vigilance, perseverance, skills, and playfulness to work with light, shade, aperture, distance, angle, focus. Therefore, to make memories everlasting, hiring prominent photographers in Connaught Place through ZoopGo is imperative. ZoopGo is India's leading and top-rated online portal with 1500+ service providers and has served 45000+ customers successfully.
5 famous types of photography -
There are different photography styles, like classical, themed, portrait, photojournalistic, artistic, fashion, drone, etc. However, it depends on your niche. Check out these five trending photography styles before hiring professional photographers in Connaught Place for your event or photoshoot:


(1) Candid Photography - Candid pictures move one emotionally because the photographer captures raw emotions of the moment, which can vanish in a fraction of a second. Those who want to be candid beautifully can hire top wedding photographers in Connaught Place through our portal.
(2) Traditional style - This style involves the creation of images that will be placed into the album. The work in this style requires a lot of time. Both the photographer and client have to work on the pose and ideas. This style is best for the newlyweds, their families, and guests. It brings royalty and class to the picture.
(3) Artistic Photography - It is defined by a unique emphasis on creative details. With this genre, a photographer creates a work of art with light and lenses. Such photographs need special attention to lighting and composition. In addition, such photos require long preparation, carefulness, persistence, and high-quality image editing. Artistic photography will never go out of style. If you want to capture your pre-wedding phase artistically, you can hire prominent pre-wedding photographers in Connaught Place through ZoopGo.
(4) Natural Photography - The real beauty is raw, pure, and in nature, and if you too prefer natural light instead of a flash. This photography technique is perfect for you. Photographs that are created in the Golden hour can create artistic images with a predominance of soft and warm colors, and the result will leave you in awe. You can take fashion photographers in Connaught Palong for a picturesque photoshoot.
(5) Portrait Photography - Sincere emotions, happiness, and excitement are what the style reflects. It can be staged or spontaneous. It's one of the couples' favorite photography styles.
9 questions to ask photographers in Connaught Place before hiring them -
(1)What type of gear do you use?


(2) How many photos do I expect to get?


(3) Are you insured?


(4) What are your background and credentials?


(5) Where can I see your portfolio?


(6) What is your photographic style?


(7) What does your fee include?


(8) What is the turnaround time?


(9) What is your payment policy and term?
5 Perks you gain by hiring photographers in Connaught Place from us -
(1) Free first four quotes


(2) Verified and assured services


(3) Dashboard with actionable insights


(4) 24/7 customer support


(5) Simple, swift, and affordable service
For any further assistance or questions, you can call us on our toll-free number - 1800-12312-9655. 
FAQs
How can I find professional photographers in Connaught place?
You can use legit internet portals like ZoopGo to find and connect with prominent, professional photographers in Connaught Place. Plus, you can reach out to your friends and family members for suggestions.
How far in advance should I book corporate party photographers in Connaught place?
You should book professional photographers for the corporate party at least 6-11 months prior to your event if you don't want anyone else to scoop on your choice of photographer.
How much do birthday party photographers in Connaught place cost?
The approximate charges of professional birthday party photographers start from INR 15000 and can go up to INR 55000.
What are the best places in CP for a professional photoshoot?
The Inner Circle, The Central Park, Agrasen Ki Baoli, Gurudwara Bangla Sahib, The Colonnade, Rashtrapati Bhavan are some of the popular places for a professional photo shoot. You can hire photographers in Connaught Place. They know the area and will suggest to you some spectacular spots for awe-inspiring photographs.
Which photography is best for weddings?
Traditional or classic photography is favorite among couples. Nowadays, more couples are opting for candid photography as well.