The high standards maintained by Photographers in Somajiguda Hyderabad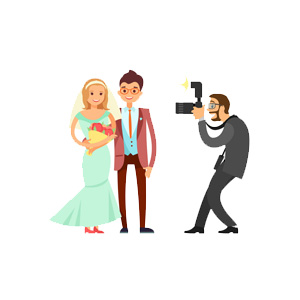 Somajiguda is a well known area in the center of Hyderabad. It is famous for its jewelers, automobile showrooms and there are some well known IT companies too. It was built as a residential area in the mid 19th century but today it's a major commercial area. Top Photographers in Somajiguda Hyderabad are hired for weddings, anniversaries, birthdays, festival parties and corporate events. They are willing to travel to any part of the city for the right offers. They will even go out to different cities in the country or abroad whenever an opportunity arises.
The Best photographers in Hyderabad are highly creative individuals
All of these service providers are equally good but they all have their unique styles and their USP (Unique Selling Point). If you are looking for the Best photographers in Somajiguda, you can see their portfolios. These contain their best work over the period of their careers. Today most tech-savvy photographers have Instagram accounts, the details of which they share with interested clients. If you like their style of work, you can share your requirements with them.
The wedding photographers in Hyderabad know the importance of your day
Weddings are a once in a life event for most of us. Those responsible for organizing the party don't want a single mistake and they spend good time choosing the wedding photographers in Somajiguda. Most photographers offer packages for such occasions, detailing how long they will work with you and the number of digital or print photos they will provide. They have albums of different sizes which they can get ready for you in case you need them. You may ask what is the importance of albums in this digital age but they are a good memento to remind you of the day when two souls joined in holy matrimony. 
The Corporate Photographers in Hyderabad deliver perfectly
All small and large corporations require photography services often. They either want to promote a new product, promote themselves as a brand or for their corporate events, to remember the day. Some of these organizations have photographers as permanent employees as they need their services regularly. While others will hire Corporate Photographers in Somajiguda. They know that perfect photos are required with no mistakes. Their photos can benefit the business activities of these organizations and encourage their employees too. 
The Birthday Party Photographers Hyderabad will make your day special
Everyone celebrates their birthday whether as a low-key affair or as a grand occasion. We all want to remember this day and Birthday Party Photographers Somajiguda will assist you with this. The birthday person is the star of the day receiving all the gifts and wishes. These experienced photographers know what goes on at these occasions and they will tell the story of the day perfectly. 
The Baby Photographers in Hyderabad will give you unique options
Today pre-wedding, maternity and newborn photoshoots are in the trends. Most couples want to have a record of what their baby looked like when they were young and for this they hire Baby Photographers in Somajiguda. They will share photos of their previous work and will ask if you would like something similar. If you have your own suggestions, they will welcome them. The photoshoot always takes place at your premises as the babies are comfortable here. Sleeping poses, you holding the baby poses, the baby smiling or rolling around all will be captured by photographers in Hyderabad. 
The Photographers charges in Hyderabad will make you smile 
Most of us select service providers according to what we can afford. Today using the internet you can collect quotes from a number of them quickly. You can separate the odd ones out, especially those charging exorbitant prices. The Photographers charges in Somajiguda depend on the effort that the photographers and their team will put in. It also takes into account the number of photos you have requested for and all of these go through editors. Today videography services are also commonly requested for. These service providers will tell you the combines charges of both of these services in moments, after understanding your requirements.
If you are looking for Photographers near me in Somajiguda, we at ZoopGo are here to assist. You must complete a small requirements form to get 4 best quotes on your mobile, without any charges. You can also call us at Toll-free number 1800-12312-9655 for verbal communication.