The best Photographers in Hitech City, Hyderabad are never short of opportunities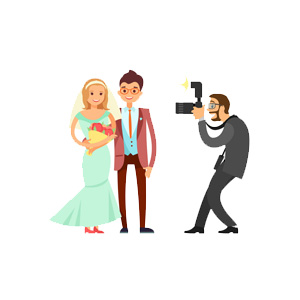 Photography for us is a means to capture and remember moments, new and old. For photographers this is a profession. Those looking to make a living out of it may find difficulty in achieving success, as photography demands talent and ability. If you love playing with colors and lights, with imaginative backgrounds and you have an eye for beauty, you will definitely succeed as a photographer. Photographers in Hitech City, Hyderabad assist at occasions like weddings, anniversaries, birthdays, corporate events and others. Some of them specialize in product, fashion and portfolio photography, based on their choices i.e. what they are able to do best. With the rise in numbers of professionals with high incomes, the demand for pre-wedding, maternity and newborn or baby photoshoots is ever increasing.    
Expect the best for Wedding Photoshoots in Hitech City
There are more photographers under this category than any other in Hyderabad. The reason is that most people will take their chances at other occasions due to financial constraints or any other reasons, but they will always hire professional Wedding Photographers in Hitech City for this occasion. These assignments require someone who can work continuously for long hours, concentrate through the night and give the results that they have been hired for. 
Your Birthday Party Photoshoot in Hitech City is important to us too
Our birthday is a day that we try to make memorable by organizing parties and inviting our near and dear ones. And what better than photography to store the memories of the day for your entire life. The Birthday Party Photographers in Hitech City have been to many such parties and they know exactly what needs to be done. They will capture the cake from all angles before it is cut, while it is cut  and as its pieces are fed to all the guests. Every activity worth capturing will be clicked and stored into your digital and print albums.
The reasons for jump in demand for Maternity Photographers in Hitech City
The main responsibility of every pregnant lady is to look after herself and the unborn baby. Today affluent families want this period to be captured too, to announce that someone new will be joining the family soon and as they feel this time is something that they should not forget and keep memories of. The Photographers in Hyderabad who agree to these assignments know the importance of the safety of the lady during the photoshoot. They recommend loose fit clothes that the lady will be comfortable in and they only ask for poses that the lady doesn't have any issues in.
You will feel comfortable at Baby Photoshoot in Hitech City
Newborns are not photographed soon after they are born as they might find the flashing cameras terrifying. Only when they are a few months old and comfortable with the new world, that the parents allow the Baby Photographers in Hitech City to come and capture some photos that will be a good memory for them and the baby. Whether these photos are captured indoors or outdoors depends on the season and the weather as nobody wants to expose the young one to extremes of nature. The choices of dresses are always left to the baby's mother. 
Only the best are hired for Fashion Photoshoots in Hitech City
This type of photography is among the most difficult ones among all types of photography. Though every photographer gives his best, the Fashion Photographers in Hitech City know that their work will come under public eyes and scrutiny. Their work is usually published in magazines and any mistake will lead to heavy penalties. This is a highly paid job and only the best are able to reach this level. 
The wealthy are opting for pre wedding photoshoots in Hitech City
Most of us who are invited to weddings of affluent couples, will see some posters of the couple and even videos of them enjoying their time together. The pre wedding photographers in Hitech City are behind this along with videographers. Today there are a number of locations in the country providing their open fields or secluded areas for these photographic opportunities. This day the two superstars are documenting part of their life together before the wedding.
The Charges are inclusive of all services
Most photographers work with expensive imported equipment. The printers they use are of the highest quality, as this will decide how good the photos are that the customer gets. All this costs money and the photographers have to pay the editors too. All this money has to come from somewhere and you guessed it right, from the Charges that the customers pay.  Practically they charge you for the time they spend with you and the number of photos you need. 
Whatever your reasons may be, if you are looking for Photographers Near Me, we at ZoopGo are here to serve. Completing our small requirements form will lead to 4 best quotes, free of charge on your mobile. Alternatively you can always connect with us Toll-free at 1800-12312-9655 to discuss your requirements and we will answer any questions you may have.