Hire Wedding Photographers in Kukatpally Through ZoopGo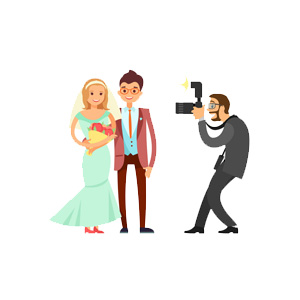 Kukatpally is an urban city of Telangana located near the region of greater Hyderabad. This city is known for its rich culture and royalty. Weddings in this city are royal and glamorous. To capture these moments of your wedding day you can hire wedding photographers in Kukatpally through ZoopGo.
 This city has beautiful locations for a pre-wedding shoot. You can also hire local pre-wedding photographers in Kukatpally near you. You can do your pre-wedding shoot in locations like elements first, Charminar, Falak Numa palace, Chowmahallapalace, and many more. 
Why I should hire wedding photographers 
Hiring a wedding photographer is one of the best investments you can make when planning your wedding. Wedding photographers capture all the special moments that will last a lifetime. They can provide you with beautiful, unique shots of your special day that you will cherish forever. A wedding photographer can make sure that all your memories are preserved and captured, providing you with beautiful photos to look back on and remember your special day. They can also provide you with advice on how to make the most of your wedding day, so you can enjoy it even more.
Types of wedding photographers you can hire
Here is the list below you can hire wedding photographers
Traditional Wedding Photographers
Photojournalistic Wedding Photographers 
Fine Art Wedding Photographers 
Cinematic Wedding Photographers 
Documentary Wedding Photographers 
Adventure Wedding Photographers
Destination Wedding Photographers 
Lifestyle Wedding Photographers 
Off-Camera Flash Wedding Photographers 
Illustrative Wedding Photographers
What are the benefits of hiring wedding photographers in Kukatpally through ZoopGo
Professionalism: Professional wedding videographers in Kukatpally have the ability to capture those special moments of your special day and keep them forever.
Quality: They use high-end equipment and techniques to produce high-quality images of the bride. Bride photographers in Kukatpally are highly skilled and provide the best quality work to you. 
Experience: Professional wedding photographers in Kukatpally have the experience to capture the right moments at the right time and in the right way.
Creativity: Wedding photoshoots in Kukatpally are highly creative and have the ability to capture unique and creative shots that will make your wedding memorable.
Dedication: Professional wedding photographers in Kukatpally are committed to providing you with the best services and quality images. 
Flexibility: Professional wedding photographers in Kukatpally are flexible and can accommodate your specific requests and needs.
Can I hire Cinematic photographers near me?
Yes, you can hire cinematic photographers in Kukatpally. They will create stunning visuals of your wedding and make a perfect storytelling wedding album for you. They are also highly experienced with the camera and able to capture dynamic moments and emotions in photographs. If you are looking for cinematic photographers you can hire them from ZoopGo. 
How to hire wedding photographers from ZoopGo
We are here to help you to book a wedding photographer with ease.
When you are on the ZoopGo portal click on events.
After that choose the photographers services you looking for 
Select wedding photographers on the portal.
And then simply go through the portfolios of the photographers.
Select the best you like the most.
You can also call our Toll-Free number 1800-12312-9655 in case of any query as we are happy to serve you.