Hire Professional Photographers in Bowenpally, Hyderabad From Zoopgo for long-lasting memories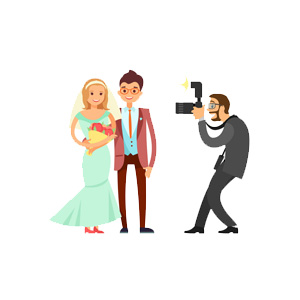 Every Photograph is beautiful and a symbol of remembrances whether they are blurred or perfect. Every picture tells a story. We at ZoopGo put forward it to you and connect you to several skilled professional photographers under one roof. We are India's leading aggregator solutions in the digital market. Our work is to connect you with the service providers of photography. You can easily find them nearby your locality and photographers in Bowenpally are your go-to options for any event whether it is corporate, birthday party, weddings, maternity or child photography, and so on.  
At ZoopGo, you can look at multiple profiles of various photographers, and read their reviews, services offered by them, their work location, and portfolio of their work. Also, you can get free quotes from them and hire them to your preferences. We always try to endeavor the best for our clients. 
How can ZoopGo help you to find photographers near you?
With the help of our online web portal and application, you can easily find the right photographers according to your choice. We are not limited to fewer services, you can find multiple service providers by just customizing your list based on your location.
You can easily operate the website https://www.zoopgo.com by filling out a form with your details.
Customize according to your needs.
It can be for events like corporate, birthday parties, weddings, child photographs, and so on.
Round-the-clock customer support
Get free quotes, read reviews, and then hire them. It gives you more clarity.
For any queries, you can contact us without any hesitation on our customer support number 1800-12312-9655 or mail us at [email protected]  
Well, photography is a different kind of ecstatic world that is the symbol of the epitome of beauty and art. Our professional wedding photographers in Bowenpally are highly qualified in their work. From wedding decorations to couple photoshoots, they are beyond your imagination. We at ZoopGo are not only limited to wedding photography but also involve corporate events, birthday parties, child photography, pre-wedding shoots, and much more.
What are the charges of photographers in Bowenpally near me?
At ZoopGo, the charges of listed photographers in Hyderabad depend on the services offered by them. Each category of photography is different, and so are the charges. 
Some of the factors affecting charges are as follows:
How much time you have appointed the photographer affects the charges. For example- if you hired them for 3 hours, charges differ accordingly.
The category of photography includes birthday parties, weddings, corporate events, maternity shoots, bachelorette, etc. each category has its own price list.
Usually, photographers charge you on a per day basis. It is the most reliable and affordable way of charging.
Photographers listed at ZoopGo offer a variety of affordable packages from which you can choose.