Browse & book amazing Photographers in Secunderabad only at ZoopGo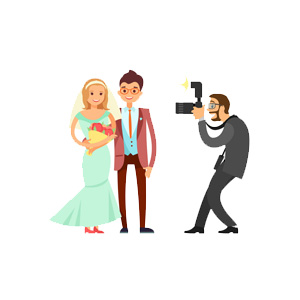 Whether it's your commercial occasion or any wedding ceremony, appoint experienced Photographers in Secunderabad to save all your moments. If you appoint professional photography services for business then it enhances the brand value. Because your fashion magazines always require fresh trends and an attractive photoshoot.
Hire Best Photographers in Secunderabad to Cherish Unforgettable Memories 
Well Hyderabadis! If you are searching for the best photography service providers in Secunderabad, then there is an abundance of ideal options to choose from, just simply trust us on this! Secunderabad, known as the twin city of Hyderabad is a host to the dreams of many skillful photographers - be it the wedding, corporate events, freelancers, or outdoor events photographers. To make it easy for you, Zoopgo offers you a comprehensive list of professional and verified photographers in Secunderabad offering quality services according to your requirements and budget.
How Zoopgo Can Help You Find Top Secunderabad Photographers Easily?
If you are looking for the experienced and best birthday or wedding photographers in Secunderabad, then you are required to hire the services of an expert photographer who is reputed for capturing beautiful pictures and making your event memorable. Zoopgo helps you get connected with the reliable photographers in your area and for this, you have to consider the following process:
Browse through the Zoopgo portal or download the mobile application. This will only consume not less than 1 minute of your precious time.
Fill up the form that you see on top of the homepage and mention your photography-related requirements.
Get instantly connected with the verified photographers in Secunderabad and know their process and charges.
Compare the photography rates and hire the best one that fulfills your requirements considering your need and financial capability.
Hence, you can see how easy it is to hire photography service providers in Secunderabad like making a plate of noodles in 2 minutes.    
Photographers in Secunderabad - Offering a Wide Array of Quality Services
A professional photography service provider in Secunderabad will leave no stone unturned to capture the various intricacies of an event or a party. They make use of modern tools and quality lenses to capture the perfect photo that you will cherish forever.  The wedding photographer will click the various candid moments of the bride and groom, the birthday party photographers in Secunderabad aim to provide you the wonderful images to relive your special day. Fashion photographers take professional pictures that will help you to make a mark in the fashion industry. There is a lot more the photographers' offer than you can imagine.
Hire Reliable Secunderabad Photography Service Providers For a Memorable Experience
So, what are you waiting for? Browse through our comprehensive list of the top photographers in Secunderabad, to end your search for the [photography service provider near your region that perfectly suits your needs and budget. It does not matter whether you are looking to hire wedding, birthday, or maternity photographers in Secunderabad, choose from a wide range of service providers, check out their quality work, and have a stress-free experience.  
There are millions of photographers out there so, it's a bit challenging to know where and how to appoint any experienced one. Keeping in mind value-added services ZoopGo is a highly preferable web portal. We're the stop solution for all your requirements related to your household, personal care, photography, or more. We shortlisted India's top-notch service providers to your doorstep facilities.
When it comes to top photographers near you, we're the trusted ones. So, you don't need to wander here and there to find any genuine providers. All you need to do is visit ZoopGo and book any experienced photographer at your place.
How is ZoopGo highly preferable for Wedding Photographers in Secunderabad?
The first thing we're not limited to any 1 or 2 services because we broaden our network in India. No matter if you're from urban or rural areas, now you can easily meet with your local photographers.
Now it's easy to choose what you want. How? At ZoopGo you can filter a suitable photographer according to the location and budget.
We understand and care for all your choices. If you're from the fashion industry or having any wedding occasion then you can go for your favorite one.
We are very sure that your experience will be beyond your expectations. Because our wedding or Fashion Photographers in Hyderabad  know how to capture the entire scenario and deliver it to you.
Trusting any provider is not that easy. That's why you can explore our verified customer feedback section.
The charges are quite competitive where you can afford the packages very easily.
What are the ways to appoint Corporate Photographers in Secunderabad at ZoopGo?
Not only corporate photographers, but our parameters are also all set to opt for the value-added services near you. You can finalize any experienced photographer for a better occasion.
You need to visit at ZoopGo and fill in the location and scroll the entire list.
After that, you can compare the experiences and the flexibility of work.
The camera quality matters a lot and equipment for better background lighting and focus.
You need to ask Photographers in Secunderabad charges according to all your requirements.
Now you need to know about the way they work and accomplish the task.
After that, it will be easier to ask and clear all your doubts.
The transparent photography services will be beneficial further.
What's Next?
There are multiple photographers at ZoopGo such as Maternity Photographers in Secunderabad, commercial, weddings, and much more. It's time to not settle for less. For more, our experienced customer service providers will be available for you. You need to connect us at 1800-12312-9655 or mail us at [email protected]. So, get the best one according to all your requirements for better end-user experiences.