Hire professional photographers in Banjara Hills, Hyderabad,  for those splendid memories!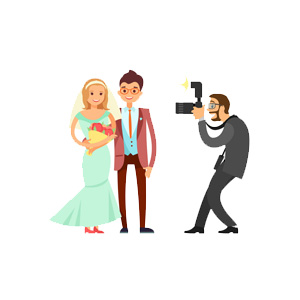 A picture is worth a thousand words if it is captured excellently! Indeed, photography is the art of saying the most with the least, and photography professionals understand just that. For them, photography is much more than just a record of a moment. They bring energy to every shot they take to capture the essence and tell the story. We guess your search for professional photographers in Banjara Hills, Hyderabad, brings you here to ZoopGo, India's one of the most trusted and highest-rated web aggregation platforms. The great news is that you can discover quality photography services that value your money in your desired location with us.
Make Your Festive & Formal Memories Flawless With Us! 
Indian festivity, especially weddings, exhibits grandeur and charm. Wedding Photographers in Banjara Hills capture every moment with the utmost care and perfection and let you hold on to those treasured moments by freezing those admiring memories forever in time. We help you discover the best photography partner to make your gala day memories unforgettable. Not only do your personal and intimate moments need a photographer's attention, but also your business. So, if you value your brand's image and want your business to dominate the web, consider hiring professional corporate photographers in Banjara Hills with us and accelerate your business growth. 
Why Us?
ZoopGo is a one-stop-shop for 100% verified services in four categories: home, logistics, events, and automobiles. We've been linking customers with their ideal service match for over ten years and have connected 94,000+ customers successfully to their perfect match thus far. We bring thousands of reputed and well-liked photography professionals, including fashion photographers in Banjara Hills, on our platform so that customers can get the best of the best services, all under one roof. 
Exclusive features in a few words!  
100% Verified Photographers 
Quick quotes for price & service comparison 
Around-the-clock Customer Support 
Got your back with the Last Minute booking facility 
Personalized Dashboard for actionable insights 
Economical prices that suit your budget 
Book Now and Save Up To 25%
Quality photography services are expensive. But we send you First-Free-Four-Quotes as you list your queries with us. Having multiple quotes in hand helps you compare services and prices. You can also use these comparisons as negotiation leverage and save up to 25% on your booking. In addition, you can hire expert and experienced videographers in Banjara Hills from us. 
Photography charges in Banjara Hills vary from one photographer to another and are calculated on different parameters, such as:
The type & size of your function 
Package or hourly-basis services 
The number of photographs
photography style
Full-day or half-day photography services
Additional Add-ons
Accommodation/Transportation charge
Applicable taxes, etc.
A Basic package of photography services in Hyderbad ranges from INR 15000 to INR 45000 or more, depending on the above-cited factors.
FAQS
Can I hire wedding photographers in Banjara Hills on a budget of INR 60000?
Yes, the approximate photography charges in Banjara Hills range between INR 60000 and INR 150000. Just list your requirements and details with us to get the First-Free-Four-Quotes. Compare those quotes and book the service that best matches your budget.
How soon should I book photographers in Banjara Hills for my event?
It's advisable to book your photography partner at least 7-15 before the fixed date of your event through ZoopGo.
Can I book photographers in Banjara Hills 2 days before my birthday?
Yes, we welcome short notice bookings, yet we recommend booking at least 7 days prior to your specific event.
Can I hire photographers in Banjara Hills on an hourly basis?
Yes, most professional photographers offer hourly basis services, while some offer packages. You can discover the best photographers who offer hourly basis services with ZoopGo.
Can I book photography services at discounted rates through ZoopGo?
Yes, you can save up to 25% by booking photography and videography services through our platform by comparing the multiple quotes of different photographers shared by us.
Do I need to pay upfront to photographers in Banjara Hills?
Yes, you may be required to pay anywhere between 20% and 30% as a token amount to lock in the vendor.