Hire Professional Wedding Makeup Artists in Delhi through ZoopGo to Look Your Best
 "Beauty lies in the eyes of the beholder" – Plato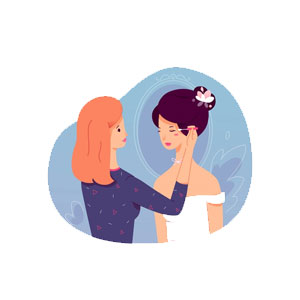 Looking elegant and attractive on her wedding day is a long-cherished dream of every girl. The right makeup is the best way to emphasize the natural beauty of a bride and make her look stunning on her dream day. Any bride who would like to look like a royal prince on her gala day must hire professional wedding makeup artists in Delhi via ZoopGo to achieve the most graceful look. At ZoopGo, we, with over a decade of experience, 7000+ business partners, and 1500+ daily happy customers, strive to connect you with the top beauty professionals in Delhi, so that you can achieve the best version of yourself.
Valid reasons to hire wedding makeup artists in Delhi:
For an embellish makeover -A makeup artist uses a face as a canvas, and with their world-class beauty products and techniques makes a bride look flawless. They use high-quality as well as long-lasting makeup.
To synchronize with outfit - Your makeup and outfit color should be synchronized together, and the best bridal makeup artist in Delhi understands that. They, with their techniques, create a perfect blend of makeup that suits your outfit's color. 
For defined makeup trends -Makeup trends change at pace. Professional makeup artists in Delhi listed with us keep track of the latest makeup trends. They put all the latest options before the bride, let her choose one, and make her look stunning on her big day. 
Beautiful hairstyles - Hairstyles define the overall look of a bride. Professional makeup experts in Delhi understand this fact. They enhance the overall look of a bride with lightweight, beautiful hairstyles that compliments her face shape. Plus, they apply high-quality and best products to keep the hairstyle in place and intact. 
Top reasons to hire wedding makeup artists in Delhi through us:
Certified Artists - Professional beauty experts enlisted with us are successful artists. To make sure you get the best services, we verify their KYC documents, like PAN card, Aadhar card, Certificate of incorporation, and licenses.
Quick Services – You can cut the noise of search engines and connect with certified and best bridal makeup artists in Delhi at ease through our platform just by enlisting your requirements and details with us. 
Cost-effective services - Our goal is to provide superlative yet cost-efficient services to our customers by connecting them with the best beauty and makeup professionals in Delhi.
Our unique features are:
Get Quick quotes - You can get instant, competitive prices through our real-time quotation tool for your specific beauty needs in a minimal amount of time.
Insightful Dashboard feature - You can get insights into a beautician's service through our distinctive dashboard and go for the one that best suits your needs.
24/7 customer care assistance For any beauty assistance and concerns, you can talk to our dedicated customer care support executives at any time.
You can hit us up on our toll-free number - 1800-12312-9655. Our customer care representative will happily cater to your beauty needs.