Hire makeup artists for fashion shoot in Delhi through ZoopGo and make a difference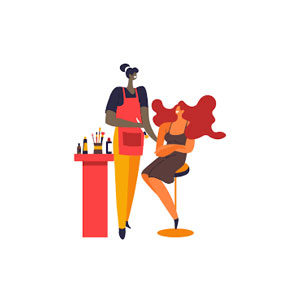 If your face is like a canvas, then a makeup artist is a painter, who, with her artistic elements and tools, adds uniqueness to what already exists. Hiring the best makeup artist for a fashion shoot is imperative because he/she knows the latest couture trends and lets you make a statement. At, ZoopGo, we, with years of experience, 1500+ associates, 45000+ happy customers, strive to connect you with the most sought-after makeup artists for fashion shoot in Delhi to make a mark in the fashion world. 
Role of makeup artists for fashion soot in Delhi
It is not products but makeup artists' artistic ability and skills that help you achieve the desired look. They understand the theme of a photo shoot. They research accordingly, visualize the makeup on your face, and then give you a look that inspires millions.  
Six reasons for hiring makeup artists for fashion shoot in Delhi through us 
Quality work - Makeup artists enlisted on our platform are top players in the makeup industry. They, with their product knowledge and artistic ability, bring your wow-factor out and let you steal the spotlight. 
Skills: Makeup artists for models listed with us are up to date with the latest makeup trends. They have the expertise to create a multitude of looks from classic beauty to fantasy and help you to spark your creativity and make your on-camera performance shine. 
Product Selection: Makeup artists registered with us, with their forward-thinking techniques, product knowledge, help you achieve a polished look. 
Guaranteed services - We understand the worth of a photoshoot. Thus, we verify the credentials of the makeup artists in Delhi before listing them on our platform so that you can get the best services. To check their genuineness, we verify their legal documents like  Certificate of incorporation , Aadhar Card and  PAN Card .
Best yet budget-friendly - A fashion photoshoot is an expensive affair, and we at ZoopGo, understand just that. Therefore, we strive to connect you with high-quality services at cost-efficient prices. 
Saves your time - Professional makeup is costly. Therefore, one spends an insane amount of time online to get the quality services. ZoopGo enables you to cut through the clutter of search engines and connect with excellent makeup artists for fashion shoot in Delhi in the least amount of time.
Significant features that set us apart! 
Quick quotes - You can obtain instant quotes from the top four makeup artists in Delhi through us. Having various quotes in hand makes it easier for you to compare the price and choose the best deal. To get the quotes, all you need to do is list your requirements with us on the form available on our website. 
Insightful dashboard feature - Our distinctively designed user-friendly dashboard feature enables users to get insights about makeup artists' business through their ratings and reviews. 
The 24/7 world - Our dedicated customer care support executives will provide around the clock service through voice and non-voice process. 
For any further questions or concerns, don't hesitate to call us on our toll-free number - 1800-12312-9655.