The Portfolio Shoot Makeup Artists in Delhi will help you get on the career ladder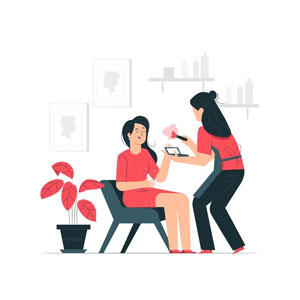 Most models prepare their portfolio before they start their career and they update their portfolios with their best pictures as they continue in their line of work. Portfolio Shoot Makeup Artists in Delhi are numerous in this fashion capital of the country. Models from all across the country come to this city looking for work and wherever they go, they are asked for their portfolios. Yes, choosing the right photographer is important, but so is choosing the right makeup artist. Whether you are male or female, it is all about looks in this business and the more you enhance them, the more are your chances of getting work. These experienced artists will ask about the dresses that you have chosen for your portfolio and will apply the makeup accordingly. You may choose different types of dresses and the makeup will change with them.
There are makeup artists for every occasion
Photoshoots are done for a number of occasions like your engagement, wedding, birthdays and for any other party. The Makeup Artist for Photoshoot in Delhi will assist you in your preparations for the party. We always hire someone when we don't have time for an activity or we want something different or we don't know how to go about the task. When preparing for a party, you have umpteen things to worry about and these makeup artists will take away worries about one part of your party, your makeup. You may be an expert in makeup yourself but these service providers will always provide something extra. They won't just assist you but other guests too, especially at the weddings where the ladies accompanying the bride need to get some makeup done too.       
Cometh the hour cometh the makeup artist
You can hire the makeup artist from the local beauty parlour. If you visit them regularly you will know their capabilities. If you are looking for alternatives you will be able to Hire Makeup Artist for Event online. You will find artists serving locally, in adjacent areas and at distant areas. Most of them will be able to assist you at your home while some will only do the makeup activity only at their parlour. They all use branded products, they believe are the best for enhancing your looks. They are accompanied by a hair stylist, if they are not experts with handling your hair themselves. 
The earnings of the makeup artist depends on the quality of their work
Nothing in this world is free and everything costs money. You will only hire someone if you can afford them or if you find their charges reasonable. We all try to buy everything at as low a cost as we can. The Charges of makeup artists change with the type of locality they are in, as the buying power or citizens of the city is different across different levels of the society.
The makeup artists charge you according to the services you require.
They charge more to serve you at your location than if you come to their parlour.
They are charging you for their time, use of their equipment and beauty products.
If you are searching for makeup artists Near Me, online we recommend ZoopGo. We understand your requirements and all you need to do is to complete a small form, and in minutes 4 best quotes, free of cost will be on your mobile. Alternatively you can connect with us at 1800-12312-9655, to discuss your requirements or for any queries you may have.
FAQs
How will ZoopGo assist you with Portfolio Shoot Makeup Artists in Delhi?
We are here to speed up your search for service providers. We do this by providing quotes as the first step and not the last. We will list only those makeup artists that match your requirements.
What are the charges of the Portfolio Shoot Makeup Artists in Delhi?
The charges mostly start from Rs 5,000 and go upwards, depending on what you need to get done.
What is the quality of Portfolio Shoot Makeup Artists in Delhi?
All service providers listed by us are registered with us and we have verified their commercial details. Please read customer reviews about these makeup artists on our online portal.
What is the cancellation and rescheduling policy of Portfolio Shoot Makeup Artists in Delhi?
You must make these service providers aware of your change of plans, as soon as you can. If you have canceled in the time period specified by them, then your deposits will be reimbursed and if they are available on the new date selected by you, they will reschedule too.
What do the Portfolio Shoot Makeup Artists in Delhi need from me?
You should reach the photography venue on time. You must thoroughly clean yourself up before the makeup starts.