Find the Right Makeup Artists in Delhi only @ ZoopGo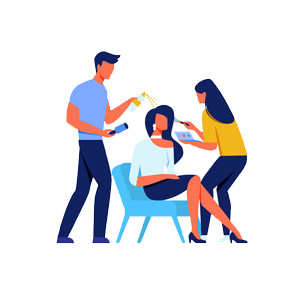 Most of you wonder why women/girls wear chic-sleek makeup? Well, good makeup enhances confidence and represents your personality. It also embraces your natural beauty with a touch-up of blush. So, the experienced Makeup Artists in Delhi are well-known in India. Brides and Bridesmaids, always prefer to put them on the top. Why don't you opt for any professional one?
Because, there are 1000+ makeup artists in India, where the quality of cosmetic products is not satisfying. The quality of the product matters a lot when it comes to your skin, hair, and eyes. That's why ZoopGo is a highly appreciated provider when it comes to quality. Because we are committed to providing the best end-user experience.
Top 6 Best Makeup Artists in Delhi To Transform You for Beautiful Occasions 
Think about the moment you walk into the hall, the attention at that moment and everyone's eyes on you. Every girl has dreamed of this moment in her life at least once! 
How confidently and perfectly you will attend your wedding totally depends on your attire and the makeup artist plays a great role in it. As a result, you must select the best makeup artists in Delhi. Are you struggling to choose a makeup artist for you? 
Don't worry, here is a list of the best and most famous makeup artists in Delhi whom you can choose to transform you for your beautiful day. 
1. Leena Bhusan 
Lenna Bhusan is one of the most searched makeup artists of 2023, an iconic professional makeup artist in Delhi who cover all types of bridal makeovers. A right makeup artist who is ready to travel with you, ready to cover all your wedding function looks. She is experienced and fabulous in her work whatever she does. Cosmetic brands like Sephora, Mac and Naked…etc are a product that she uses to do the makeup. 
Service Price: Starting from Rs. 45000  
Address: 288, A Block Inner Rd, Block A, Defence Colony, New Delhi, Delhi 110024
Instagram: @facestoriesbyleenabhushan 
2.  Shalini Singh 
Shalini Singh very talented and experienced Delhi-based makeup artist. She is particularly known for her beautiful transformations. She works on a global basis and also trains beginner makeup artists. 
Service Price: Starting from Rs. 30000  
Instagram: @shalinisinghmakeupartistry
3. Parul Garg 
Parul Garg is popular with 2.7M followers on Instagram and most lovable icon by her brides known for her specialization in airbrush and bridal makeovers. In recent days she also started her own makeup brand under her own name. With this, she is also a well-known makeup course educator. Her studio is located in Gurgaon. It's recommended to book her in advance because most of the time she is fully booked. 
Service Price: Starting from Rs.51000  
Address: Next to Powergrid Township Gate, Sector 43, Gurgaon, Haryana, India 
Instagram: @parulgargmakeup 
4. Ridhi Verma 
Ridhi Verma is a ready-to-travel makeup artist who travels to get ready for her clients in different destinations and overseas. If you are looking for and nude makeup artist for your wedding day, then you definitely should choose her. She is a well-known event and party makeup artist in Delhi, known for giving lifetime experiences to her clients. 
Service Price: Rs. 60,000 for the bride per function and for outstation functions, Rs. 90000 per function 
Address: C-176 Dayanand Colony, Lajpat Nagar 4
Instagram: @makeoverbyrishiverma 
5. Shagun Gupta 
A very talented and well-known freelance makeup artist based in Delhi, NCR. She is known for her professionalism and for not compromising the quality of her products. She is well known for her natural, minimalist approach to the client's demands. She offers her services in Makeup, hairstyling and draping. Artist with so much positive feedback and love received from her clients. Below is the bridal makeup price in Delhi, which she charges in a genuine and budget manner according to her service. 
Service Price: Starting from Rs. 40000 (price may vary depending on the type of service you choose) 
Contact Details: [email protected]
Instagram: @makeupbyshagun
6. Sahil Malhotra 
He is one of the most professional makeup artists near me who is able to handle all cultures, style or tones. "2016 Most Promising Award Winning" is also a certified make-up artist from "Los Angeles". His great technique and exposure add confidence to brides, which can be easily seen in the brides. 
Service Price: Starting at Rs. 50,000 per function 
Address: Rajouri Garden, New Delhi
Instagram: @houseobeautyybysahil
These are the top makeup artists in Delhi whom you can hire for bridal makeup, engagement or any other event. If you need any further assistance choosing makeup artists, you can search on ZoopGo for affordable, budget-friendly or top-notch makeup services. 
How ZoopGo is preferable for the best makeup artist in Delhi near you?
For many years our genuine web portal has been the trust of our users. Here you can customize the entire list according to your nearest location and budget. Fortunately, our experienced airbrush makeup artists in Delhi are here and always prefer the best quality according to your skin type. Because every woman has different skin types such as Large Pores Skin, Excessive Oily, Normal skin type, Dry and sensitive skin, etc….They take care of every requirement of yours including...
The best quality of make-up products
Experienced makeup artists
Flexibility of work
Professionalism to deal with the customers
An experienced airbrush makeup artist in Delhi always prefers to use equipped services.
Styling your hair according to any particular occasion.
They also help you in styling your costume.
If it's any theme party occasion then a party or bridal makeup artist in Delhi can help you in A to Z makeover.
What are some easiest ways to appoint an experienced party makeup artist in Delhi at ZoopGo?
ZoopGo provides a great platform where our users can shortlist the quality of services. The major thing is our experienced customer support team will be here for further better solutions. Because our freelance makeup artist in Delhi will offer you quality services according to requirements.
Visit zoopgo.com
Explore the list and customize your choices.
Then you need to choose a genuine one for further better services.
If you're in doubt then connect with us and get the best makeup artist near you.
Now it's easy to connect with us at 1800-12312-9655 or mail us at [email protected].
Connect With the Top and Verified Makeup Artist in Delhi With the Help of ZoopGo!
Makeover nowadays has become an important part of our lives and we love to have flawless skin if we are attending any occasion at our friend's home, or hosting the birthday party of our child. Apart from this, if you are all ready to tie a knot you will love to take the services of a Bridal Makeup Artist in Delhi.
Being the capital city, there is no dearth of makeover service providers in Delhi, but we should opt for the services of reputed makeup service providers only.
What Kind of Precautions Your Make Up Artist Should Take While Doing Your Bridal MakeUp?
Getting ready for the wedding day is the dream of every bride and therefore, there is no exaggeration in saying that we should connect with those makeup artists in Delhi, who provide you the best and quality makeup services. But in the COVID-19 era, we have a fear in our mind that if we get COVID positive through the contact of makeup artist, then it will play havoc with our lives. Ask your makeup artist to take the following precautions at the time of booking bridal makeup services.
Ask MakeUp Artist to Wear a Mask: Ask your makeup artist to wear a mask every time so that you can enjoy flawless makeup services.
MakeUp Artist Should Apply Sanitizers Frequently: If you are hiring makeup artists observe that if they apply sanitizers on their hands frequently or not. If they do not, ask them to apply the sanitizers frequently.
Ask them to Sanitize the Products Before Use: You should instruct your makeup artist to sanitize their makeup kits and other makeup products before use.
Avoid Direct Application of Makeup Products on Your Face: Pour out the products on a pallet first before direct application of makeup products on your face.
What are the Different Ways to Hire the Best Makeup Artist Near Me in Delhi?
If you are looking forward to obtaining Makeover Services in Delhi, you can rely on the following platforms.You can ask from a panel of your friends whose weddings either are in queue or have taken place before your marriage ceremony.You can scour the internet for getting the assistance of the best makeup artist in Delhi. Hiring the services of the top online portals in Delhi such as ZoopGo will ensure to help you get in touch with the best and verified makeup artist in Delhi.
How ZoopGo Helps You to Attain the Services of the Best Party Makeup In Delhi?
Go to ZoopGo.com and after that select the tab of the makeup artist.
You will be redirected to another page where you will find different options.
You will first have to select what type of makeup services you are looking to have. For example, you are looking forward to having wedding makeup artist services, looking for the services of professionals for a portfolio shoot, or else you want the makeup services for a party or pre-wedding shoot, or else you are having an engagement function.
After stating the reasons for hiring makeup services, you have to further select the services. You have to state if you want the services of makeup only, or makeup and hairstyling, or you require only hairstyling.
After that, you have to select the venue for getting these services. Select if you want to book these services for your home, or want it at any external venue, or will go to the salon of the makeup artist.
In the next step, you will have to select the time and date of the function and finally, you will have to submit your name and contact number.
After this step, you will get free-of-cost quotations from at least three to four makeup artists through our platform.
How to Connect with ZoopGo to Hire the Services of the Top Makeup Artist Near Me in Delhi?
You can dial our toll-free number 1800-12312-9655. Else you can shoot an email to us at [email protected].