Connect With the Top and Verified Makeup Artist in Delhi With the Help of ZoopGo!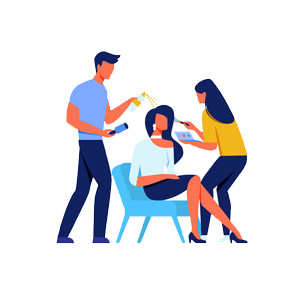 Makeover nowadays has become an important part of our lives and we love to have flawless skin if we are attending any occasion at our friend's home, or hosting the birthday party of our child. Apart from this, if you are all ready to tie a knot you will love to take the services of a Bridal Makeup Artist in Delhi.
Being the capital city, there is no dearth of makeover service providers in Delhi, but we should opt for the services of reputed makeup service providers only.
What Kind of Precautions Your Make Up Artist Should Take While Doing Your Bridal MakeUp?
Getting ready for the wedding day is the dream of every bride and therefore, there is no exaggeration in saying that we should connect with those makeup artists in Delhi, who provide you the best and quality makeup services. But in the COVID-19 era, we have a fear in our mind that if we get COVID positive through the contact of makeup artist, then it will play havoc with our lives. Ask your makeup artist to take the following precautions at the time of booking bridal makeup services.
Ask MakeUp Artist to Wear a Mask: Ask your makeup artist to wear a mask every time so that you can enjoy flawless makeup services.
MakeUp Artist Should Apply Sanitizers Frequently: If you are hiring makeup artists observe that if they apply sanitizers on their hands frequently or not. If they do not, ask them to apply the sanitizers frequently.
Ask them to Sanitize the Products Before Use: You should instruct your makeup artist to sanitize their makeup kits and other makeup products before use.
Avoid Direct Application of Makeup Products on Your Face: Pour out the products on a pallet first before direct application of makeup products on your face.
What are the Different Ways to Hire the Best Makeup Artist Near Me in Delhi?
If you are looking forward to obtaining Makeover Services in Delhi, you can rely on the following platforms.
You can ask from a panel of your friends whose weddings either are in queue or have taken place before your marriage ceremony.
You can scour the internet for getting the assistance of the best makeup artist in Delhi.
Hiring the services of the top online portals in Delhi such as ZoopGo will ensure to help you get in touch with the best and verified makeup artist in Delhi.
 How ZoopGo Helps You to Attain the Services of the Best Party Makeup In Delhi?
Go to ZoopGo.com and after that select the tab of the makeup artist.
You will be redirected to another page where you will find different options.
You will first have to select what type of makeup services you are looking to have. For example, you are looking forward to having wedding makeup artist services, looking for the services of professionals for a portfolio shoot, or else you want the makeup services for a party or pre-wedding shoot, or else you are having an engagement function.
After stating the reasons for hiring makeup services, you have to further select the services. You have to state if you want the services of makeup only, or makeup and hairstyling, or you require only hairstyling.
After that, you have to select the venue for getting these services. Select if you want to book these services for your home, or want it at any external venue, or will go to the salon of the makeup artist.
In the next step, you will have to select the time and date of the function and finally, you will have to submit your name and contact number.
After this step, you will get free-of-cost quotations from at least three to four makeup artists through our platform.
How to Connect with ZoopGo to Hire the Services of the Top Makeup Artist Near Me in Delhi?
You can dial our toll-free number 1800-12312-9655. Else you can shoot an email to us at support@ZoopGo.com.
FAQ:
What Questions You Should Ask from Your Bridal Makeup Artist?
Ask the following questions from your makeup artist before booking their services:
You can ask your wedding makeup artist to show their portfolio of their previous clients.
Also, ask them what kind of makeup techniques they will use for their wedding makeup, airbrush, HD, or any other style of makeup.
Ask them if they can take the assignment of your wedding makeup comfortably?
Also, ask them what are their probable makeup charges for booking bridal services.
Why ZoopGo is an amazing platform to Book the Services of the Makeup Artist?
You can hire our services to connect with the services of the top and verified makeup artists in Delhi. Our experts check the Pan Card, Aadhar Card, and Certificate of Incorporationof the makeup artist before associating them with us. You can enjoy our dashboard facility where you can compare the reviews and ratings of varied makeup service providers. You can also save your hard-earned money up to 25% at the time of booking their services through us.
What Preparations You Should Do Before Your Final Makeup Day?
You should wash your skin with lukewarm water.
Apart from this, you can also exfoliate your skin, and nourish it with a toner.
You should also completely moisturize your skin with a good moisturizer.