Book the best caterers in Wadala & make your soirée even more delicious!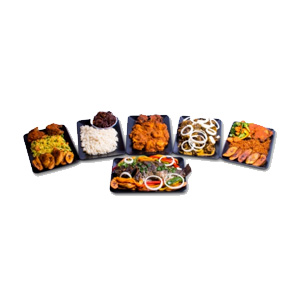 Whether it corporate or social: A soirée can't be concluded successfully without top-notch food and hospitality. We at ZoopGo, connect you with the best caterers in Wadala (Mumbai) to take your soirée to the height of elegance with delectable food offerings and impeccable services. We are India's top-rated value-added aggregation platform with 1500+ partners; served 45000+ customers till now, aim to connect you with your perfect catering match & make your soirée an irresistible affair!
3 Tips to create an event of your dreams with the best caterers in Wadala
(1) Food truck - Colourful food trucks are becoming increasingly popular and for all good reasons. They are like a breath of fresh air. Getting one for your upcoming event will let your guests go wow.
(2) Food bars - This is the best inclusion for the guests' who love modern-day cuisine. It will give your guests who love modern-day cuisine a lot more to look forward to. Its uniqueness and style will make your guests turn to their favorite food bars for a refill time and again.
(3) Unconventional dessert - It's the hottest trend right now as guests like being taken for culinary joyrides. Caterers give a modern twist to the classic dessert options and serve them cutely and uniquely to get the attention of your guests. Birthday party caterers in Wadala, associated with us, present dessert in awe-so-amazing ways and make your guests go wow.
5 Reasons to hire professional caterers in Wadala through ZoopGo 
(1)Best-in-class services under one roof - We are India's value-added aggregation platform that connects customers with top players in the catering world at reasonable prices under one roof with a click of a button. Moreover, you can find top-notch wedding caterers in Wadala using our portal. 
(2) Sumptuous Foods - Service providers listed with us are passionate about food. They prepare food with love using fresh and the highest quality ingredients to make your celebration even more memorable.
(3) Tempting Menus - Partners listed on our portal give your celebration a creative spin with a tempting menu and fulfill your vision for the affair.
(4) Impeccable Service - We take pride in connecting you with top-notch service providers to ensure that every little detail is taken care of before you have to ask.
(5) Always Elegant - Be your idea of hosting an event is understated or lavish, our partners wow your invitees with one-of-a-kind taste and sophistication and ensure your stand out from the rest.
Our services -
Instant quotes and bookings
Dashboard for actionable insights
You are just 3 steps away from your perfect catering partner -
Step #1 - List your catering requirements with us to receive the First Four Free Quotes. Furthermore, you can book the best veg and non-veg caterers in Wadala through us. 
Step #2 - Check the received quotes from different caterers, compare their prices. Dig into detail using Dashboard and get real insights into their business.
Step #3 - Call & book!
We'd be more than willing to assist! For further queries call us on our toll-free number 1800-102-9655.