Hire the best caterers in Bandra through ZoopGo for an affair to remember!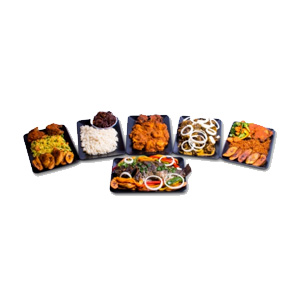 Food, service, & ambience are three core elements of an event, regardless of its size and type. So if an ideal event is your desire, hiring the best caterers through ZoopGo is imperative to get the best service for your investment. ZoopGo, with over a decade of experience in-home services, 45000+ happy customers, and 1500+ service providers, is a leading business listing portal that endeavours to connect its customers with the best caterers in Bandra and make their occasion the most sought-after ever.
5 reasons to hire caterers in Bandra through us -
(1) For best-in-class service - Caterers listed with us are front players in the catering business. They are certified, assured, and licensed and are capable of making an event irresistibly delightful. Moreover, you can get in touch with the best wedding party caterers in Bandra through us.
(2) For quick, free quotes - You can get the first free four quotes through us. All you need to do is enlist your requirements and details with us, and we will send you free quotes from top-notch service providers in the least amount of time. Suppose you are looking for birthday party caterers in Bandra, you can share your queries with us, and you are good to go.
(3) For actionable insights - You can weigh the genuineness of a caterer through our Dashboard feature. It will help you to make a well-informed decision. Further, you can connect with the best veg and non-veg caterers in Bandra with us.
(4) For 24/7 support - We care about our customers the most. Our customer care support experts, with their round the clock support service, will solve your queries.
(5) For best service at best price - With us, you can get best-in-class service at the best possible price. So choose us to get the best non-veg and veg caterers in Bandra.
3 ways to connect with the professional caterers in Bandra -
Stellar reputation - Your hard-earned money, efforts, and lifelong memories are on the line, so you must hire a caterer who handles your event like a pro. Therefore, you must begin researching his goodwill. The best way to start is to seek recommendations from your reliable sources, like friends and family members, but don't stop there; scour the internet to check more reviews about them.
Tastefully done - You can't judge a book at all the way it's covered; similarly, you can't judge food through pictures. Therefore, you must make sure the caterer you're hiring for your event provides taste testing. Don't be swayed by beautiful photographs without giving the food a try for yourself.
Cost of service - Catering is expensive. So be clear about your budget and ensure the quote you receive is inclusive, which means it fully covers the caterer's full service. Apart from that, those who are looking for top-notch Maharashtrian caterers in Bandra must-visit ZoopGo.
For further assistance, please call us on our toll-free number - 1800-12312-9655.