Book the best pest control services in Punjabi Bagh, Delhi, only with ZoopGo!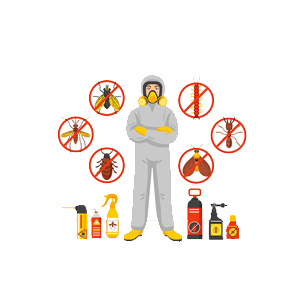 You opened the kitchen door at midnight and were shocked to see an army of cockroaches dancing on slabs, spoons, cabinets, and anywhere else you can think of; pests are like Bin Bulaye Mehmaan (uninvited guests), which are relatively common in Indian households. So, consider reaching out to professional eliminators if your home has also been suffering from pest terror for quite some time. With that said, finding an ideal pest control company in Punjabi Bagh, Delhi, may be complicated, not because there's a lack of options but because there are plenty.
But you don't have to worry since you have found us. We at ZoopGo are India's #1 web aggregation platform. With thousands of certified and licensed professionals offering quality pest control in Punjabi Bagh, we have been fulfilling customers' pest control needs for 10+ years and strive to connect you with an ideal partner so that you can eat, sleep, pray and play in a peaceful and pest-free environment.
Importance of professional pest control in Punjabi Bagh! 
Infesting pests can spread infection, introduce disease, and compromise your house's structural integrity. Bugs are complex. You can't eliminate them through DIY. Therefore, when you choose licensed experts for bug or cockroach control in Punjabi Bagh, you choose the safety of your family and home. Here are some reasons for professional pest control: 
(1) A DIY approach to pest control is not always enough. Professional technicians have industry-grade chemicals and modern tools to reach the source of the infestation and eliminate pests there and then. You can approach us to connect with technicians for quality rat control in Punjabi Bagh.
(2) Periodic pest control services eliminate pests associated with health hazards, keeping you and your loved ones safe. 
(3) Your home's insurance coverage policy can't protect your home against the havoc caused by pests. But you can book professionals for termite control in Punjabi Bagh with us at budget-friendly prices to protect the integrity of your abode. 
(4) Pests are different. Hence, they can't be eliminated with a one-size-fits-all formula. Professionals offer customized pest control solutions to eliminate pests quickly and efficiently. Book the best-priced lizard control in Punjabi Bagh with us. 
Factors determining pests control charges in Punjabi Bagh
Standard pest control charges in Punjabi Bagh may range between ?10 per sq ft and ?18 per sq ft for commercial properties and ?799 and ?6999 or more for residential properties, depending on the type of infestation, severity, type of treatment, number of treatment applied, etc. Since we provide customers with various free quotes, enabling them to compare prices and save up to 25% on services without compromising on quality. Furthermore, you can also discover the best experts for bed bugs control in Punjabi Bagh near you using our portal. 
Exclusive offers just for YOU! 
First Four Free Quotes from Licensed Partners 
A Fantastic Opportunity for Saving Up To 25% 
Friendly Customer Assistance 24/7
User-Friendly Review Dashboard 
Last Minute Booking Facilities are Available
Happy to assist :)
Call us at 1800-12312-9655 (Toll-free) or post your requirements by completing the quote request form available on our portal to connect to the best professionals for pest control in Delhi near me.