Book the professional pest control in Safdarjung Enclave through ZoopGo for a pest-proof home!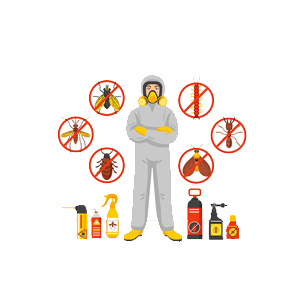 One day, while going to bed, Neha found the colony of terminates at the back of her bed. She destroyed it with a broomstick and slept in peace, thinking the problem was not anymore. She got more shocked after seeing a colony than the earlier one.
She tried to treat the area with DIY methods. Unfortunately, her efforts went in vain. One fine day, she came across ZoopGo, India's most trusted value-added aggregation service (VAS) platform, and booked professionals for termite pest control in Safdarjung Enclave through it. She is satisfied and happy as she does not have to deal with pest infestation. 
Pests are definitely a menace for a property owner. They not only compromise the structural integrity of space but spread diseases and cause health hazards. Like Neha, if you are worried because of pest infestation, you must reach out to us to book reliable and best-priced pest control in Safdarjung Enclave and protect your home and loved ones from the ill-effects of these germ-wielding creatures. 
Why professional pest control services? 
Pests infestation can be complicated, and treating them without understanding their type can worsen the problem. Therefore, professional intervention is imperative to control pests' infection properly. Professionals are certified and trained. Plus, they have the right tools and access to the right chemicals. They treat the affected areas effectively and reduce the chances of re-infestation and make your environment pest-free and healthy. If you are unable to sleep on your beloved bed, then the chances of bed bugs in your home are high, so book professionals through ZoopGo for bed bugs treatment in Safdarjung Enclave to get rid of them permanently.  
Why ZoopGo? 
Happily served 79000+ customers, ZoopGo, with 2000+ verified service partners, is India's one of the most trusted value-added service platforms. It is designed to fulfill customers' specific needs by connecting them with their perfect pest control partner. Through ZoopGo, you can book pest-priced professional pest control services instantly. Moreover, you can call experts anytime for any query or concern to make a well-informed decision. Are you terrified of lizards? Book professional lizard pest control in Safdarjung Enclave through us for a lizard-free home. 
Offerings that set us apart 
Verified, registered, and licensed partners 
Excellent round the clock customer support 
Dashboard for actionable insights 
Responsiveness and flexibility
Transparent and cost-effective solution
Book Best-Priced pest control in Safdarjung Enclave just in 3 steps 
Step #1 - Share your pest control requirements with us to receive the Instant First Four Free Quotes. If you want to book professional cockroach pest control Safdarjung Enclave, then mention it specifically in the given category to avail of the right services. 
Step #2 - Check and compare quotes. 
Step #3 - Call & book! 
If you are looking for the 'Best pest control in Safdarjung Enclave near me,' reach out to us. We will connect you with professional and best-priced service providers. For further queries call us on our toll-free number 1800-12312-9655. Moreover, you can download our application from Google Play Store and book our services anytime, anywhere, at your convenience.